Five teams from around the world to compete in second Over the Dusty Moon Challenge
Colorado School of Mines, Lockheed Martin to host final round of student design challenge May 31-June 1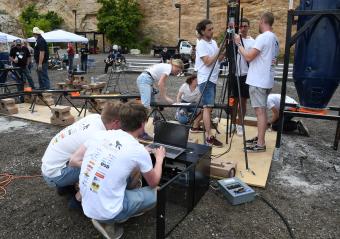 What's the best way to transport dirt on the Moon? University students from around the world have been considering this challenge for months, and working versions of their solutions will be on display May 31-June 1 at Colorado School of Mines.
Mines and Lockheed Martin are hosting the final round of the second annual Over the Dusty Moon Challenge, with five teams from around the world facing off on the Mines campus in Golden, Colorado, to demonstrate the most effective system for conveying lunar regolith – soil found on the moon – both horizontally and vertically.
"We're excited to run the competition again this year and see how the engineering designs have improved based on lessons learned and get some fresh ideas from new countries entering," said Kevin Cannon, assistant professor of space resources at Mines. "This year's challenge is more realistic in that we've added pebbles and rocks into the synthetic lunar regolith that teams will have to remove as they transport the material over the test track."
Over the two-day competition, each of the teams will demonstrate their prototype systems for the judging panel, which will choose a winner based on the amount of regolith transported, system mass, energy consumed, dust tolerance and generation, autonomy and overall performance.
Rock Hoppers, a team from Mines, will be competing. This year's other competitors are:
MoonAixperts, from RWTH Aachen (Germany)
Aussienauts, from University of New South Wales (Australia)
SpaceTeam AGH, from AGH University of Science and Technology (Poland)
Spaceship EAC, a multi-national team consisting of members from Universitat Politècnica de Catalunya (Spain), TU Delft (Netherlands), EEIGM (France), RWTH Aachen (Germany) and Universita di Pisa (Italy)
"When Orion splashed down on Dec. 11 and concluded the successful Artemis I flight, we took a giant step toward the Moon. Inspiring these amazing students from around the world to push the limits of what's possible within lunar exploration technology is even more urgent," said Kirk Shireman, Vice President, Lunar Exploration Campaigns, Lockheed Martin. "Creating challenging, experiential educational opportunities like Over the Dusty Moon ensures we are tapping into the next generation of innovative and forward-thinking engineers as we are one step closer to a sustainable presence on the Moon."
Photos of the competition will be available upon request Thursday and Friday.