First-of-its-kind study estimates daily PFAS dietary exposure from vegetables in adults and children
Published today in Environmental Science and Technology, the research was led by Mines' Chris Higgins and Juliane Brown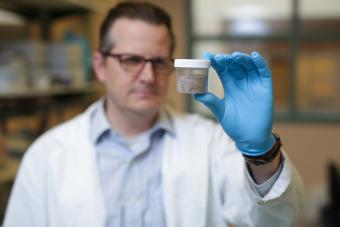 If state and federal regulators focus only on the safety of drinking water, the public could still be exposed to concerning levels of poly- and perfluoroalkyl substances (PFASs) via the vegetables on their dinner plate if those vegetables are grown with PFAS-impacted water, according to a new study from researchers at Colorado School of Mines and engineering firm Geosyntec.
Published today in the journal Environmental Science and Technology, the study is the first of its kind to examine PFAS in water that is used to grow crops.  Researchers compiled available data on how much individual PFASs are taken into vegetable crops irrigated with contaminated water – in this case lettuce – to estimate the daily dietary exposure intake through vegetables of these so-called "forever chemicals" for both adults and children.
"While there has been an emphasis on identifying and cleaning up drinking water impacted by PFASs, much less attention has been given to assessing risks from consuming produce irrigated with PFAS-contaminated water," said Juliane Brown, an environmental engineering PhD candidate at Mines who led the research.  "This study brings much needed attention to this issue and highlights the potential risks associated with this critical exposure pathway."
PFASs are a large and diverse group of synthetic chemicals used in many commercial and household products, including Class B fire-fighting foams, nonstick-coated cooking pan production, food contact materials, waterproof textiles and many others. An emerging body of evidence shows PFAS exposure can cause cancer and developmental, endocrine, renal and metabolic problems.
Globally, PFAS contamination of irrigation water and soils in agricultural areas has arisen from a variety of sources, including the use of aqueous film forming foam (AFFF) on military bases and airfields, the application of treated sewage sludge as agricultural fertilizer and releases from nearby industrial facilities.
But currently, many state and federal agencies are primarily focused on drinking water exposure, missing a potentially importance exposure pathway via irrigation water, said Christopher Higgins, professor of civil and environmental engineering at Mines and senior author of the study.
"Even when drinking water has been treated and is considered safe, there is a potential for exposure from vegetables irrigated with contaminated water or grown in contaminated soil," Higgins said. "This study shows that regulations that solely target perfluorooctane sulfonate (PFOS) and perfluorooctanoic acid (PFOA) in drinking water are inadequate to protect human health risks from PFASs."
By using statistical modeling techniques akin to the election model prediction forecasts, the Mines-led team was able to consider a range of variability and uncertainty to identify the "most likely" intake and hazard associated with consuming PFAS-contaminated vegetables, using lettuce as a proxy for produce.  The team also predicted risk-based threshold concentrations in produce and irrigation water to provide screening levels for assessment. These represent the range of concentrations for individual PFASs in irrigation water predicted to be below a level of concern for human health.
Using the lowest available human health toxicity reference values and a conservative 5th percentile approach, estimated risk-based threshold concentrations in irrigation water were 38 nanograms per liter (ng/L) for PFOA and 140 ng/L for PFOS, two PFASs commonly targeted by regulators.
In the case of PFOA, this suggests that even if irrigation water meets the current 70 ng/L PFOA and PFOS U.S. Environmental Protection Agency lifetime health advisory for drinking water, this may not be fully protective of PFOA exposure due to vegetables grown in that water, at least compared to toxicity reference values used by the State of California, which has the lowest toxicity reference value for PFOA in the U.S., Higgins said. Importantly, PFAS contamination also typically includes more than just PFOA or PFOS.
"Another major implication of this study is we really need to come up with a plan to address PFAS mixtures, as these chemicals are nearly always present as a mixture," Higgins said
The team used real-world data from PFAS-contaminated groundwater to conduct a hazard analysis of a theoretical farm comparing different risk estimates based on established state, federal, and international toxicity reference doses. This analysis showed estimated exposures to most PFASs exceeding available or derived human health toxicity reference values – indicating water-to-crop transfer is an important exposure pathway for agricultural communities with PFAS-impacted irrigation water.
The full study, "Assessing human health risks from per- and polyfluoroalkyl substances (PFAS)-impacted vegetable consumption: a tiered modeling approach," is available online at https://dx.doi.org/10.1021/acs.est.0c03411. In addition to Brown and Higgins, co-authors were Geosyntec principal scientist Jason Conder and project scientist Jennifer Arblaster.
This research was supported, in part, by the National Science Foundation Graduate Research Fellowship and the U.S. Environmental Protection Agency (under Assistance Agreement No G18A112656081.)