Faculty Awards honor 9 Mines professors for teaching, research, mentorship
Computer Science Department — aka CS@Mines — won four awards, including two for Associate Professor Tom Williams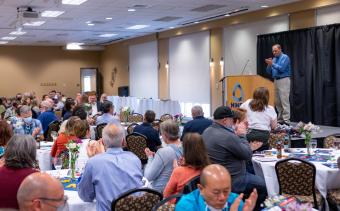 The Office of Academic Affairs at Colorado School of Mines is proud to announce the winners of the 2021-2022 Faculty Awards for excellence in teaching, research and mentorship.
The annual awards celebration was held April 27 in person for the first time since 2019.
Faculty Excellence Award
The Faculty Excellence Award, which recognizes a tenured or tenure-track faculty member for significant and meritorious achievement in teaching and scholarship, went to Tom Williams, associate professor of computer science.
"The success of Tom's faculty launch was nothing short of meteoric. In just a few years, he has won three fiercely competitive early-career honors bestowed to the highest-achieving academic rising stars: the NSF CAREER Award, NASA Early Career Faculty Award and AFOSR Young Investigator Award," Provost Rick Holz said. "Tom's interdisciplinary research merges Human Robot Interaction, Artificial Intelligence, cognitive systems, natural language understanding, and robot ethics. His prime focus is 'developing genuinely helpful language-enabled intelligent agents.' To do so, he founded and directs the Mines Interactive Robotics Research Lab (MIRRORLab), where he has empowered a robust research team. The extraordinary level of Tom's achievements lifts the quality of student learning experiences in his classes, where he applies high standards of rigor to students' mastery of leading-edge content."
Mines Teaching Awards
The Mines Teaching Awards recognize superior teaching at the undergraduate level over the period of several years.
The Tenure/Tenure-Track Teaching Award was given to Reza Hedayat, associate professor of civil and environmental engineering.
"Since joining Mines, Reza has made significant contributions to teaching infrastructure and instructional quality by developing new critically needed courses and establishing a new construction materials laboratory. Reza always strives to provide a positive, trusting, and encouraging environment in his classes to ensure effective learning and student interaction," Holz said. "The COVID-19 pandemic prompted him to re-design courses to improve the learning environment through varied instructional approaches, especially designed for remote instruction. The changes resulted in very high evaluation scores for courses and labs taught during this challenging time."
Two Non-Tenure-Track Faculty Teaching Awards were awarded this year.
The first went to Christopher Coulston, teaching professor of electrical engineering.
"Chris has significantly enhanced the undergraduate experience for students in his classes. He utilizes 30 years of Electrical Engineering expertise to create engaging and creative lab experiences, update lecture content, and build more accessible classes. Chris uses his teaching and consulting knowledge to improve students' hands-on experiences and connecting lab practices with the classroom experience. Chris has also improved the student experience across Mines by working with the Trefny Center on different initiatives including the recent Peer Observation Protocol initiated by the Faculty Senate," said Holz.
The second award went to Christopher Painter-Wakefield, teaching professor in computer science.
"With over eight years in Mines' undergraduate classrooms, Christopher, or 'CPW' to all, has created and led dynamic courses and coordinated huge, multi-section offerings. CPW has instructed and advised thousands of undergraduate students and routinely enriches colleagues in many ways, such as generating pedagogic innovations that augment delivery of core educational objectives. He proactively seeks out creative strategies to enhance students' classroom experiences, resulting in vibrant, interactive learning environments. He also finds and tailors valuable technology tools that better meet students' instructional needs. CPW is at the forefront of serving diverse student populations and broadening participation in computing," Holz said.
Alfred E. Jenni Faculty Fellowship
Justin Shaffer, teaching associate professor in chemical and biological engineering, is the winner of the Alfred E. Jenni Faculty Fellowship, which is awarded to a faculty member for institution-wide contributions in teaching effectiveness and educational scholarship during the one-year award period.
Shaffer plans to use Jenni fellowship to develop workshops, collaborate with the Trefny Center, and work with faculty to disseminate best practices for using high structure course design towards reducing achievement gaps.
Excellence in Research Awards
The Excellence in Research Awards recognize Mines faculty members who are active in research for their outstanding accomplishments while at Mines.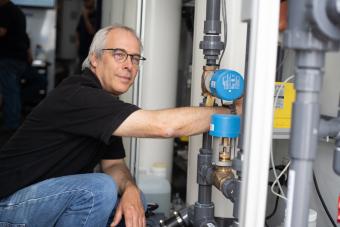 The Senior Faculty Award, which honors faculty members with 10 or more years of self-directed research, was given to Tzahi Cath, professor of civil and environmental engineering.
Director of the Advanced Water Technology Center (AQWATEC) and co-director and founder of the WE2ST Water Technology Hub, Cath has one of the highest h-index ratings on campus and more than 112 articles published in top journals in his field. His research focus is water treatment engineering, membrane processes, water reuse and desalination, and data science integration into the water field.
The Junior Faculty Award, for faculty members with less than 10 years of self-directed research, went to Hao Zhang, associate professor of computer science.
Zhang founded and currently directs the Human-Centered Robotics Lab, where he has originated 28 research grants, 14 of which have already been brought to successful completion. He also has won a National Science Foundation CAREER Award and DARPA Young Faculty Award.
W.M. Keck Mentorship Awards
The W.M. Keck Chair for Professional Development Education, Faculty Senate and Office of Academic Affairs seek to support and encourage the development and adoption of novel and effective mentorship strategies across campus. Three Mentorship Awards have been established to recognize extraordinary mentorship.
Undergraduate Students
Tom Williams, associate professor of computer science, was recognized as "an archetype of effective undergraduate mentorship."
"Tom's purposeful efforts have created meaningful pathways for student growth and success, supported vulnerable students, and cultivated mentoring avenues that capture students' imaginations and give them a true sense of belonging," said Roel Snieder, W.M. Keck Distinguished Professor of Professional Development Education.
Graduate Students
Allyce Horan, director of the Writing Center, was recognized for the critical role she has played in expanding the scope of her office "so that Mines' scholars are known for their clear and professional communication skills as they go into their careers."
"The Writing Center has always helped both levels of scholars – and faculty as well – but in recent years Allyce has developed additional graduate writing support," Snieder said. "She did this through several initiatives such as the bi-weekly graduate writing groups led by an experienced writing consultant, and the organization and coordination of the Thesis Writers Retreat over summer."
Faculty and Staff
Angus Rockett, professor of metallurgical and materials engineering, was recognized for his mentorship and support of faculty and staff during his tenure as department head.
"He was committed to ensuring that his faculty developed and grew in their careers, making sure that they earned and were awarded with promotion and tenure. Likewise, he made sure that his staff were able to pursue continuing education opportunities, develop and use their talents, and grow as mentors of others," Snieder said. "Toward the end of his time as Department Head and since stepping down, Angus continues to work with his colleagues at all levels providing advice and suggestions for their career development and personal growth."
To see photos from the April 27 event, go to mines.zenfolio.com/p2914188#h3eb3e10e.