Energy efficient living: Mines professor leads project to refurbish neighborhood
Paulo Tabares Velasco leads a collaborative project to cut carbon emissions, increase energy efficiency in a Colorado manufactured home community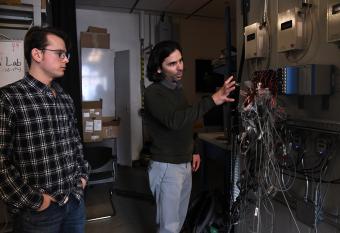 Many new-construction houses are designed with energy efficient and carbon emission-reducing features, like solar panels and highly insulated windows. A project led by a Colorado School of Mines professor aims to extend those energy benefits to a whole community of manufactured homes in Colorado.
Paulo Tabares Velasco, associate professor of mechanical engineering, is heading the three-year project, which is being made possible by a grant from the Alfred P. Sloan Foundation. The Colorado Energy Office and Energy Outreach Colorado will work to retrofit the homes, while Tabares and his team at Mines will monitor the impacts of the changes and quantify the benefits for the residents.
The neighborhood Cooperativa Nuevo Union in Leadville has been identified as a possible site, and the team is working to secure the location for the project, Tabares said.
"Sustainable communities lie at the heart of the U.S. transformation into a carbon-neutral country. Thus, we plan on retrofitting the whole community and setting up smart controls and dashboards so the residents can be better informed of how these changes are benefitting the whole neighborhood and increase the performance and benefits of the entire system," Tabares said.
The dashboard will be co-designed with the community to really address what is important to them. "The larger goal is that hopefully we can find a pathway for more communities throughout the state, and maybe even the whole nation, to be retrofitted and electrified in the same way," he said.
The project will focus on what's called the building envelope, Tabares said, meaning the parts of the house that separate it from the outdoors: walls, roof, windows, foundation, etc. Some of the planned upgrades include:
Insulating the roof attic and foundation
Air sealing any gaps in the envelope
Removing inefficient gas furnaces and replacing with a cold climate heat pumps
Replacing gas water heaters with heat pump water heaters
Installing electric or induction ranges in place of gas stoves
Establishing a community solar panel garden
Creating a dashboard for each homeowner that tracks things like air quality and power usage
Many of the changes going into the manufactured homes are not uncommon in new-construction communities or in higher-income zip codes, Tabares said. Features like solar panels and energy efficient appliances often come standard in pricier homes, but the economic savings associated with these kinds of changes can have an even greater impact in places like a manufactured home community.
"This, for me, is the beginning of focusing my research on how we can impact low-income families and communities right now," he said. "How can we produce technologies that can work for everybody, not only for people that make $500,000 or more a year? These kinds of changes should be attainable for all. I want my career not to be defined as successful by the number of papers or grants I get, but by the number of communities and families that I positively impact."
The Weatherization Assistance Program from the Colorado Energy Office is collaborating on the project.
"Colorado's Weatherization Assistance Program is excited to collaborate with Dr. Tabares and Mines on this project, which will allow us to learn more about serving whole neighborhoods and communities effectively and economically, while maximizing individual and community-wide energy efficiency, cost savings, and health and safety benefits," said Michelle Butler, senior engagement manager for the Weatherization Assistance Program. "We believe that the services we will provide the residents of Cooperativa Nueva Union will not only lower their energy costs, but will also offer greater resilience against changing climate conditions and move us closer to a clean energy future in Colorado."  
The project will also involve collaboration among Mines students from different disciplines: electrical engineering, computer science, business and economics and mechanical engineering students will be working together to develop the monitoring dashboard and quantify the benefits residents will gain over the three years of the project. Faculty partnering in this project include Associate Professor Ian Lange and Assistant Professor Ben Gilbert from Economics, Assistant Professor Gabe Fierro from Computer Science, Associate Professor Qiuhua Huang from Electrical Engineering and Associate Professor Kathleen Hancock from Humanities, Arts and Social Sciences.
"We're considering this a pilot project that hopefully can pave the way to be replicated in other communities," he said. "We want to show that retrofitting a whole neighborhood makes more sense than retrofitting one house here and one house there."
A key function of the dashboard the Mines team will be creating is putting the power of knowledge in the hands of the homeowners. For example, Tabares said, if a dashboard is showing elevated levels of carbon dioxide indoors, a homeowner will know to turn on their fans and open their windows. Community solar panels – which Tabares said will hopefully reduce energy bills for the homeowners by 50 percent – will have back-up batteries in case of a power shutdown and the residents will know when to reduce usage of certain appliances that require higher amounts of electricity, like clothes dryers.
The Colorado Energy Office will begin the retrofit and install work in the summer of 2023, with completion estimated for the whole community by the end of 2024. In 2025, the third and final year of the project, Tabares and his team will fine-tune the monitoring and testing to ensure all systems are functioning and properly measuring progress.
Tabares stressed that the real and immediate impact of this work on lower-income communities is why this project is so important – and the kind of project he has long wanted to undertake. Working with a client who has real-world needs and concerns is both challenging and important.
"A key part of this is strong community engagement," he said. "We could have the best intentions and good ideas, but if the people we're working with say 'no, this doesn't work for us,' then that's the end of it. So even though working in the lab and doing what I want with my research might be less complicated, there's a bigger impact working with a community. When we finish this project, there will be about 30 houses that are more comfortable, healthier to live in and with lower energy bills."