Domaille wins Beckman Young Investigator award to develop new imaging tools to study inflammation
A member of the Mines faculty since 2017, Domaille is part of the growing bioscience ecosystem at Mines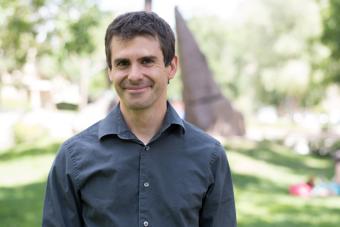 Dylan Domaille, assistant professor of chemistry at Colorado School of Mines, has been selected for the prestigious Beckman Young Investigator program, a highly selective junior faculty award given out by the Arthur and Mabel Beckman Foundation.
The program supports promising early-career faculty members in the chemical and life sciences to foster the invention of methods, instruments, and materials that will open up new avenues of research in science.
Domaille is the first Mines professor to win a Beckman Young Investigator award. One of just 10 winners this year, he was selected from a pool of 225 applicants after a three-part review led by a panel of scientific experts.
A member of the Mines faculty since 2017, Domaille is part of the growing bioscience ecosystem at Mines. His research uses organic chemistry, biology, and materials science to develop tools and processes that address critical concerns in the fields of energy and human health and disease.
Domaille and his team will develop new chemical tools to decipher the "code" that cells use to communicate with each other and will use these tools to understand how changes in these signals influence disease progression.
"Inflammatory diseases are responsible for more than 50 percent of deaths worldwide, but we still don't have a good understanding of how these biochemical signals work together to cause inflammation," Domaille said. "Support from the Arnold and Mabel Beckman Foundation will be invaluable to help us develop new tools to track the way the body uses biochemical signals that control inflammation. Once we understand how these signals work, we can pinpoint how to interrupt them to stop the progression of inflammatory disease."