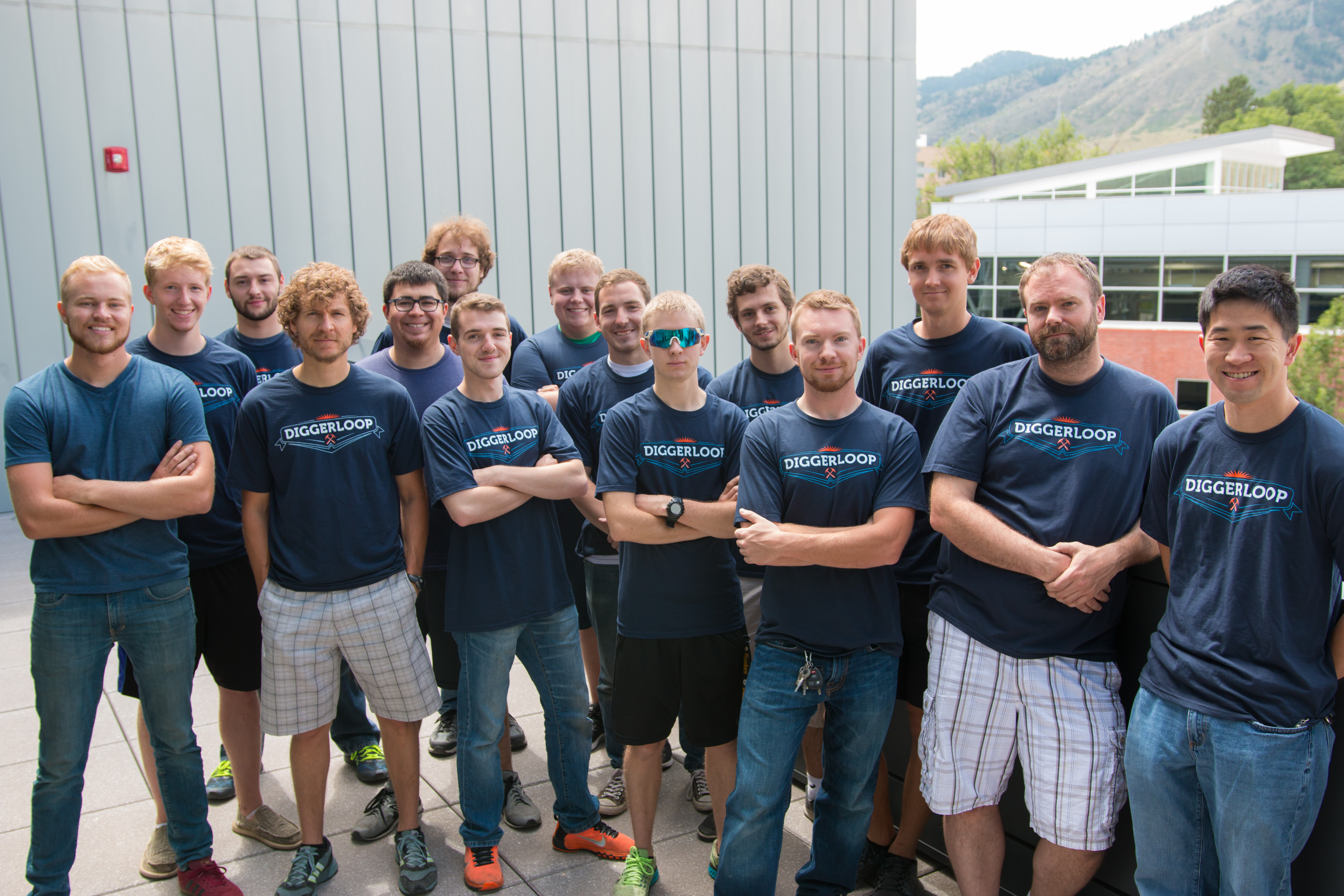 It took some long days and late nights to get over the finish line, but the Colorado School of Mines Hyperloop pod has departed for California and the SpaceX Hyperloop competition Aug. 25-27.
Team DiggerLoop will face off against 23 student teams from around the world to see whose futuristic transport pod can travel the fastest—and safely come to a complete stop—within the confines of a roughly mile-long test track.
But first, the DiggerLoop pod has to pass a battery of tests by SpaceX engineers, team leader Austin Genger said. 
"Once we're there, we have to prove our vehicle is track-worthy and is not going to come apart or damage anything," Genger said. "We've got to prove that it's good to go."
Still in the conceptual phases, Hyperloop is a high-speed transportation system that would move both passengers and freight in pod-like vehicles inside a reduced-pressure tube—faster than an airplane. 
SpaceX founder and billionaire inventor Elon Musk popularized the idea in a white paper in 2013. Since then, multiple startup companies have sprung up to push the technology forward.
DiggerLoop found out in April that it was one of 24 college teams chosen for the SpaceX Hyperloop Pod Competition II in August. The first SpaceX competition, focused on overall pod design, was won by a team from MIT in January.
In the months since the announcement, DiggerLoop has been working hard to raise money and take its pod design from rendering to reality. The full-scale pod includes many off-the-shelf parts, both to reduce costs and increase confidence in performance.  
It hasn't been an entirely smooth road. Final assembly of the pod was delayed for weeks this summer as the team waited for the fabrication of the chassis to be completed.
"It's been day by day," team member Christian Grundfor said. "Sometimes things have been going really well and then we'll just have something that's like, well, that sets us back hours. But we're getting past them all. We haven't run into anything that we haven't been able to get past."
The team planned to have their pod crated up and ready to go by late Friday night or early Saturday morning. Most team members were flying out to California on Saturday.
The pod itself will be hauled to SpaceX headquarters, located outside Los Angeles, by the father of one of the team members. 
"It's been hard because everyone has other commitments, jobs and other things to do, especially with school starting," Grundfor said. "But everyone is doing as much as they can. We've got a great team to get this far."
The team has gone through some personnel changes, as well. The pod was also a senior capstone design project -- it won first place in the College of Engineering and Computational Sciences Spring Senior Design Trade Fair -- and many of the original team members have since graduated. 
Of the 16 people working on the pod last week, only five were with DiggerLoop in the spring, Genger said. 
"We still have quite a bit of assembling to do, but if we put in one or two late nights we'll definitely get it done in time. We can finish up small details once we get to SpaceX," Genger said Thursday before leaving for California. "I feel very good about this team. They've put in just as much work as we have, this newer team. This project is just as much theirs as it is ours."
Their goal is to hit 280 miles per hour.
"I'm just excited to test this thing and see what it's actually going to do," Genger said. 
UPDATE (8-30-2017): After a rigorous safety evaluation by SpaceX employees, only three out of the 24 final teams were allowed to compete on the Hyperloop track. Team DiggerLoop was not one of them, but they are still grateful for the fantastic opportunity and already preparing for next year's competition.
CONTACT
Emilie Rusch, Public Information Specialist, Communications and Marketing | 303-273-3361 | erusch@mines.edu
Mark Ramirez, Managing Editor, Communications and Marketing | 303-273-3088 | ramirez@mines.edu