Colorado School of Mines to turn "M" red to commemorate one-year anniversary of Colorado's first COVID-19 case
Blue Key Honor Society will illuminate the Mount Zion emblem as a red heart at 6 p.m. March 5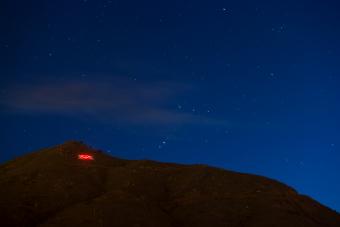 Colorado School of Mines will join organizations, businesses and individuals across Colorado today in a statewide Day of Remembrance event to commemorate the one-year anniversary of the first confirmed COVID-19 case in Colorado.
The university's mountainside "M" on Mount Zion will glow red — in the shape of a heart — beginning at 6 p.m. today. Mines community members are also asked to take a moment of silence at that time in honor of the nearly 6,000 Coloradans that have been lost during the global pandemic.
Built in 1908 and permanently lit since 1932, the Mount Zion emblem is visible well beyond the Mines campus and the city of Golden. 
Blue Key Honor Society is the student group that maintains the highly visible emblem. In the early days of the pandemic, the "M" was also transformed into a red heart in a show of support for the state's healthcare workers.