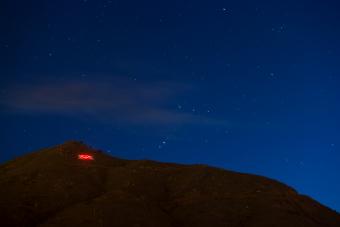 Colorado School of Mines' mountainside "M" is now glowing red in support of local healthcare workers and essential workers.
Built in 1908 and permanently lit since 1932, the Mount Zion emblem is visible well beyond the Mines campus and the city of Golden. It will be red – in the shape of a heart – every night through the end of the semester.  
"Our local healthcare workers and first responders, as well as our neighbors staffing grocery stores, making deliveries and patrolling our streets, are making it possible for the rest of us to stay well and safe at home. We are so thankful for their sacrifices and dedication," Mines President Paul C. Johnson said. "Lighting the M red at night is our way of expressing appreciation for all they are doing for us. Here at Mines, we say 'Every Oredigger cares' and 'We climb together,' and those also apply to how we will get through this pandemic – together, as a campus, a community, a nation and world."
Blue Key Honor Society is the student group that maintains the highly visible emblem. A Golden resident, Jason Malaniak, suggested the heart design.
"We can make temporary designs and change the colors on the M. We usually do this during Homecoming or E-Days," said Ethan Ball, a junior in chemical engineering and assistant M chair of Blue Key.
Many Mines students – himself included – "look up to the M and it's like a symbol of home at the university," Ball said.
"We are going to turn the M red so we can pay it forward to the health workers and essential employees so that they know that the Mines community is here for them and just supporting them while they're out there supporting us," Ball said.
For more about the mountainside "M" and its history, go to mines.edu/about/history-and-traditions.