Colorado School of Mines sophomore wins global humanitarian award
Jeeva Senthilnathan, a sophomore from Parker, Colorado, is a recipient of Diana Award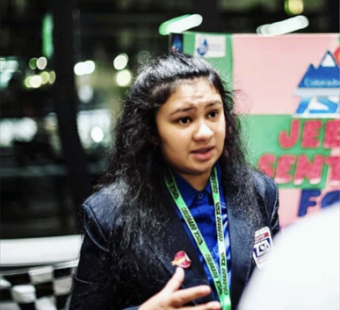 Jeeva Senthilnathan, a sophomore majoring in mechanical engineering, is one of this year's recipients of the Diana Award. Senthilnathan was recognized for founding Privando, a youth-led, all-female organization that aims to use technology to help keep women safe.
Created in memory of Princess Diana, the Diana Award was established in 1999 by the British government to recognize young people who go above and beyond the expected in their local communities. Now an independent charity, the award has been given to thousands around the world for their social action and humanitarian work.
Senthilnathan, 19, got involved in politics while still in high school, working on campaigns and political action committees, and even ran for town council in her hometown of Parker last year. She was sponsored for the Diana Award by Simone Aiken, who Senthilnathan met when Aiken was running for state representative and happened to knock on Senthilnathan's door. Aiken, a 2001 Mines alumna, is now Senthilnathan's mentor and wrote her a letter of recommendation when she was applying to Mines.
"I met Jeeva while I was campaigning for the Colorado State House," Aiken said. "She jumped right into the middle of my campaign and became my most energetic and hardworking volunteer. She organized some amazing youth outreach."
The idea for Privando began when Senthilnathan was a junior in high school. The goal was to mimic the technology used for emergency blue light boxes found on college campuses – but on wearable devices that could help women back in her parents' home country of India. Senthilnathan's family immigrated to the U.S. in 1998, before she was born.
"A few years back, India became a really dangerous country for women because of high incidents of sexual harassment and rape," she said. "If women want to pursue things like sports, or education, they should be empowered to do what they want to do, and safely."
Privando's tech team is based in Chennai, India. Senthilnathan found her team in India through Anwita Siddavatam, a teenager from Texas who at 16 started an organization of her own that works on improving reproductive healthcare information and access. They met through social media, connecting over their shared advocacy interests.
Privando's device works with the push of a button, letting women alert those in their safety network that they're in need of assistance. Senthilnathan said winning this award definitely helped elevate Privando's profile and allowed the organization to expand the team.
In the future, she hopes to make Privando's devices available outside of India, wherever they're most needed. Senthilnathan said she is discussing the possibility of expanding to Africa with a friend from Malawi. Here in the U.S., Senthilnathan and her team want to adapt the gadgets so those in the Black community can use them instead of relying on law enforcement for safety issues.
But ahead of any expansions, Senthilnathan stressed that more research is necessary, so that her organization is properly addressing what people need to be safe.
"We want to make sure what we're doing is actually applicable to the real issues in different countries," she said. "It's not enough to just be high tech. We also want to empower people."
After finishing her degree in mechanical engineering at Mines, Senthilnathan hopes to go to law school.
"I like helping people," Senthilnathan said. "Being a servant leader is so important to me, and I think the best way I can do that is through the legal system."