Colorado School of Mines repeats as global No. 1 for mining engineering
Mines' Mining Engineering Department was ranked No. 1 in the 2021 QS World University Rankings by Subject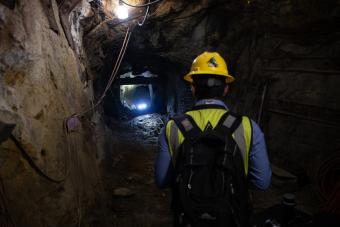 Colorado School of Mines is home to the world's best mineral and mining engineering program for the sixth year running.
The Mining Engineering Department at Mines was ranked No. 1 in the 2021 QS World University Rankings by Subject, released in May for 51 different academic disciplines and fields.
The rankings are based on four primary components: academic reputation, employer reputation, research citations per paper and H-index, a measure of both the productivity and impact of the published work of scientists or scholars.
Mines has held the top spot for mineral and mining engineering for six years in a row, since 2016. The Mining Engineering Program covers all aspects of the industry, from small-scale artisanal mining to large-scale industrial mining and mineral processing operation, including mineral exploration, mine design and operations, mineral processing, industrial recycling, water and energy management, waste and tailings management, protection of the environment as well as social and governance aspects, with applications for the surface, underground and seafloor on Earth to mining and processing on the Moon and beyond.
"Mining has never been more relevant to our future because of the transition to renewable energy sources, reduction in carbon footprints, and use of metals and minerals for all aspects of our 'built world,'" said M. Stephen Enders, professor and head of the Mining Engineering Department. "Colorado School of Mines is proud to be a leader in providing expertise and solutions to some of the world's most urgent natural resource challenges."