Colorado School of Mines partners with Aquagga to commercialize PFAS destruction technology
Developed by Mines researchers, HALT-PFAS is widely regarded as one of most promising solutions for tackling "forever chemicals"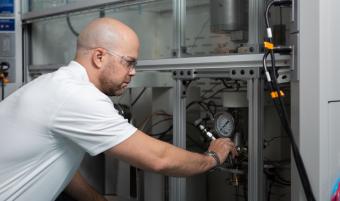 A promising technology for the destruction of so-called "forever chemicals" developed by Colorado School of Mines researchers has been licensed by a cleantech startup that aims to use the Mines-patented process to halt the growing environmental and public health challenge posed by per- and polyfluoroalkyl substances, or PFAS.
Aquagga, Inc., a Tacoma, Washington-based Public Benefit Corporation originally spun out of the University of Alaska, Fairbanks and University of Washington, has entered into an exclusive licensing agreement with Mines for the commercialization of the HALT-PFAS technology, which was developed in a Mines laboratory and recently granted a U.S. patent.
Hydrothermal alkaline treatment, or HALT, has been proven in scientific studies to completely destroy all types of PFAS. The results of testing have been published in a number of peer-reviewed journals, with the technology considered by many in the field to be one of the most promising options for the destruction of PFAS.
"Everywhere we look, we find these chemicals that colleagues are telling us have significant health impacts. Even if we were to stop all production tomorrow – which we can't because the economy relies on these chemicals – we still have all these legacy chemicals out there and they're not going to dissipate on their own," said Timothy Strathmann, professor of civil and environmental engineering and the lead inventor of HALT-PFAS. "We need solutions that not only remove the chemicals from things like our drinking water but can ultimately close the cycle by destroying the PFAS. This is a piece of that puzzle , and we're excited HALT-PFAS can help play a role."
PFAS have been widely used for decades in firefighting foams and household products such as non-stick pans, waterproof clothing, pizza boxes, cosmetics and more. The same properties that make them useful in those applications, however, also keep them from breaking down when they enter the environment, and a growing body of research shows that human exposure to PFAS can cause cancer and developmental, endocrine, renal and metabolic problems.
The U.S. Environmental Protection Agency recently proposed the first federal limits in drinking water for two common types of PFAS compounds, PFOA and PFOS – at 4 parts per trillion, the lowest level that can be reliably measured.
Researchers at Mines have been working on all aspects of the PFAS problem for many years, from fate and transport to treatment and destruction, taking a multidisciplinary and solution-focused approach to the chemicals.
The idea for HALT-PFAS actually came from Strathmann's research related to renewable energy. For close to a decade, he had been working to fine-tune a technique for renewable energy generation that relied on heating algae or wastewater sludge under high pressure, to essentially speed up the natural geochemical processes that led to the creation of hydrocarbon fuels thousands of years ago.
When he started to get involved in PFAS research at Mines, he wondered if that same "pressure cooker on steroids" might also work to break down PFAS.
"We ran some basic tests and we found that adding these strong bases like lye to the mixture before heating led to the PFAS breaking down and releasing their fluorine atoms," Strathmann said. "The process doesn't seem to generate unknown intermediates that raise other concerns, either – if you track the fluorine, it just gets converted to simple fluoride ions, the same thing we add to toothpaste. We don't detect any gaseous or volatile fluorine-containing compounds."
Since then, experiments have shown that HALT-PFAS works to break down PFAS in soil, groundwater and firefighting foams. Just this week, a new study from the team demonstrated that HALT-PFAS can be used to destroy PFAS that accumulate on activated carbon adsorbents widely used by the water treatment industry.
Also contributing to HALT-PFAS's development were Chris Higgins, university distinguished professor of civil and environmental engineering; Shilai Hao PhD '22, now a postdoctoral researcher at Mines; and Boran Wu, a visiting PhD student scholar at Mines from 2017-19, currently an associate professor at Tongji University. Initial funding for the research came from the U.S. Department of Defense Strategic Environmental Restoration and Demonstration Program (SERDP).
Mines researchers started collaborating with Aquagga in 2020 to develop the HALT-PFAS technology into a full-scale commercial product. Building upon the promising bench-scale results demonstrated at Mines, Aquagga secured funding from several federal agencies through the Small Business Innovative Research (SBIR) Program to continue advancing the technology.
"It really was a matter of being in the right place at the right time," said Brian Pinkard, CTO of Aquagga. "The original HALT-PFAS paper from Mines was published right when Aquagga was getting started, when we were first learning about the PFAS challenge and honing in on our technical vision. My scientific background is in hazardous waste destruction technologies, so when the original HALT-PFAS research was published, we could instantly see the commercial potential. It took us a few months to get our initial funding secured, but since then it has felt like we are running downhill."
Since 2020, Aquagga has raised nearly $4 million in non-dilutive funding, partially from Phase II SBIR contracts with the EPA and U.S. Defense Advanced Research Project Agency (DARPA), and has raised over $750,000 in private investment. The funding is being used to demonstrate the HALT-PFAS technology in the field at active remediation sites, proving that the technology is effective and affordable for PFAS treatment efforts.
"One of the amazing things about HALT-PFAS is that we've seen it work at every scale at which it's been tested," said Pinkard. "A lot of technologies struggle when you transition them out of the lab and try to scale them up, but HALT-PFAS seems to perform even better in our scaled-up, commercial systems. We are really excited to get this technology out in the field in 2023, to show the world what HALT-PFAS is capable of."
Overall, the collaboration between Mines and Aquagga is an ideal example of how a technology transition partnership between startups and university researchers can be mutually beneficial. "Aquagga's success is a direct product of the pioneering research performed by Dr. Strathmann and his team," said Pinkard. "We're thrilled to be formalizing and deepening our relationship with Mines and are excited to see what comes next from this fruitful partnership."
About Colorado School of Mines
Colorado School of Mines is a public university focused on science and engineering, dedicated to educating and inspiring students, advancing knowledge, and innovating to address the great challenges society faces today—particularly those related to the Earth, energy and the environment. Founded in 1874 with specialties in mining and metallurgy, Mines' scope and mission have expanded to meet the needs of industry and society, producing distinctive graduates and revolutionary innovations, and becoming a world leader in advancing sustainable use of the Earth's resources. Learn more at mines.edu.
About Aquagga, Inc.
Aquagga, Inc. is a Public Benefit Corporation founded in 2019 with a globally relevant impact mission to deploy innovative technologies to address the emerging PFAS 'forever chemical' crisis. Originally spun out of the University of Alaska, Fairbanks and the University of Washington, Aquagga has rapidly grown into a leading cleantech startup through support from regional accelerator programs, innovation fellowships, and research grants from the National Science Foundation, Environmental Protection Agency, US Air Force, Defense Advanced Research Project Agency, and others.