Colorado School of Mines, Lockheed Martin launch 2023 Over the Dusty Moon Challenge
Student teams from accredited universities worldwide are invited to participate in the regolith conveyance design challenge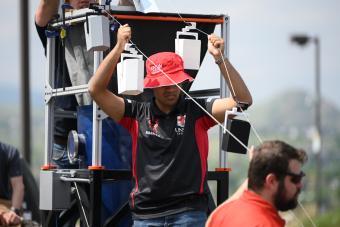 After a highly successful inaugural challenge this past June, Colorado School of Mines is teaming up with Lockheed Martin to again host a global space resources design challenge open to student teams from accredited universities worldwide.
The Over the Dusty Moon Challenge addresses a topic of increasing practical concern as humans move toward a sustainable presence on the Moon's surface. The challenge will task student teams to design, build and demonstrate a system that can convey lunar soil, also known as regolith, both horizontally and vertically. Regolith conveyance is a key technology to enable the use of lunar soil for resource processing, construction and manufacturing on the Moon.
This year's edition adds a new wrinkle to the challenge, with teams also having to remove pebbles and rocks embedded within the regolith. The challenge begins today, Monday, Sept. 19, and international participation is welcome.
"We saw some incredibly creative and innovative approaches in the first year of the challenge, and most teams were able to build prototype hardware that worked as intended. We hope this second year brings even more entries and new ideas to drive lunar development," said Dr. Kevin Cannon, assistant professor in the Space Resources Program at Colorado School of Mines.
The competition will take place over two phases: Phase 1 will culminate with the submission of the conveyance system design. Due Dec. 23, 2022, these submissions will be judged by a panel of experts from the space resources community. The top entries from Phase 1 will be invited to participate in Phase 2, where teams will be tasked with building a prototype of their conveyance system and then demonstrating the systems on the Mines campus in June 2023.
"Over the course of the two-day competition, five international teams competed, united, and inspired one another around a shared mission to create a sustainable presence on the lunar surface," said Dr. Melissa Sampson, Market Area Lead for Lunar Infrastructure, Commercial Civil Space at Lockheed Martin. "Lockheed Martin is delighted to continue the Over the Dusty Moon challenge with our Colorado School of Mines partner to harness student ingenuity to address the critical capability of regolith conveyance as we prepare to send crew back to the lunar surface! The Artemis generation is inspiring the world and each other, particularly as students collaborate to solve these crucial lunar challenges."
Prizes will include cash awards, and Phase 2 teams will receive a travel stipend, room and board during their stay in Colorado, along with free registration for the Space Resources Roundtable international conference, which will take place right after the challenge on the Mines campus.
For more information and to register for the challenge, go to overthedustymoon.com.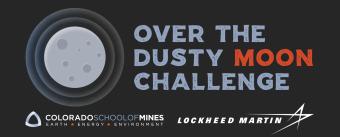 MEDIA CONTACT
Emilie Rusch, Director of Communications, Colorado School of Mines, erusch@mines.edu, 720-432-5203
Gary Napier, Communications, Lockheed Martin, gary.p.napier@lmco.com, 720-224-7955