Colorado School of Mines launching professional master's and first-of-its-kind certificate in analytical geochemistry
Tailored to the needs of working professionals, both programs will provide students with hands-on experience with state-of-the-art geochemical methods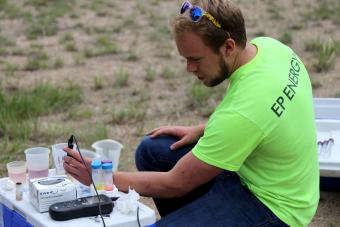 A pair of new graduate offerings at Colorado School of Mines will equip working professionals with the analytical skills they need to make an impact in mineral exploration and recovery, environmental protection, groundwater resources and more.  
The Professional Master's Degree and Graduate Certificate in Analytical Geochemistry will begin enrolling students in the fall of 2021. Both of the new programs will provide hands-on experience in cutting-edge geochemical methodology – in a format tailored to the needs of Colorado working professionals.  
"Right now, there are no graduate certificate programs in the U.S. aimed specifically at delivering a working knowledge of state-of-the-art geochemical methods," said James Ranville, professor of chemistry at Mines. "But modern approaches to mineral production, environmental protection, new technologies in resource recovery and biotechnology, development of strategic commodities, and state-of the art geoscience and climate research all rely on these increasingly sophisticated analytical methods." 
Students in the Analytical Geochemistry Program will receive instruction in the fundamentals of geochemical analysis, as well as the mechanics of sample collection, laboratory preparation, and data interpretation. Core courses provide training in X-Ray Fluorescence (XRF), Scanning Electron Microscopy (SEM) and Inductively Coupled Plasma (ICP) mass spectrometry. Elective classes give students options for instruction in a broad range of other methods. 
Both the Graduate Certificate (12 credits) and the Professional Master's Degree (30 credits, non-thesis) are designed so they can be completed part-time. Mines already offers a thesis-based MS and PhD in geochemistry.  
"There is significant demand for career-boosting graduate education that can be tailored to working professionals," said Mines Provost Richard C. Holz, who noted this program is in keeping with the university's MINES@150 goals. "These new graduate offerings are exactly that kind of program– equipping students with the skills they need for immediate entry into the job market as well as the flexibility to respond to the changing opportunities in earth and environmental science in the future." 
To learn more about the Analytical Geochemistry program, go to https://gradprograms.mines.edu/analytical-geochemistry-graduate-program/.