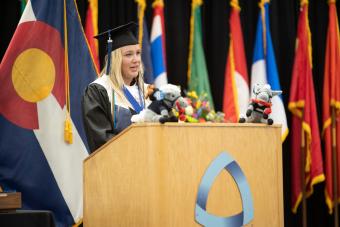 Colorado School of Mines celebrated its Fall 2020 Undergraduate Commencement on Dec. 18, conferring a total of 275 bachelor's degrees during a virtual ceremony.
The live broadcast featured cherished Mines traditions as well as new features aimed at connecting Orediggers during a time when the community cannot celebrate together in-person. Graduates also had the opportunity to cross the graduation stage in front of a small group of family members — albeit spread out over three days to allow for appropriate social distancing and compliance with public health guidelines.
Watch the full ceremony, download the official Commencement program and join the ongoing celebration on social media at commencement.mines.edu.
FALL 2020 OUTSTANDING GRADUATING SENIORS
The Fall 2020 Outstanding Graduating Seniors – chosen by faculty and staff and each representing a different academic major – were honored for their high scholastic achievement and on-campus engagement.
Wei Wan, Mining Engineering
Post-graduation plans: Wan, from San Gabriel, California, plans to attend graduate school.
Sarah Olden, Civil Engineering
Post-graduation plans: Olden, from Tumwater, Washington, will return to Mines to complete her master's degree in civil engineering.
Colin O'Connor, Environmental Engineering
O'Connor, from Flower Mound, Texas, will complete his master's degree in civil and environmental engineering at Mines.
Jaden Zymbaluk, Metallurgical and Materials Engineering
Zymbaluk, from Colorado Springs, Colorado, will return to Mines to complete a graduate degree in nuclear engineering.
Lucas Henke, Electrical Engineering and Computer Science
Henke, from Denver, Colorado, plans to complete his master's degree in computer science at Mines.
Jacob DeHaai, Geology and Geological Engineering
DeHaai, from Zionsville, Indiana, will join RSM as a technology consultant.
Matthew Adams, Chemical Engineering
Adams, from Colorado Springs, Colorado, is pursuing full-time employment in industry.
Grace Cole, Mechanical Engineering
Cole, from Nathrop, Colorado, will join Sierra Nevada Corporation as a systems engineer on the Flight Software Tool Team for the Dream Chaser Space Plane Program. In addition to working full time, she also plans to pursue a master's degree in engineering management at Duke University. 
Ford Edwards, Petroleum Engineering
Edwards, from Parker, Colorado, is seeking full-time employment in industry and looks forward to traveling once COVID-19 conditions improve. 
Justin Nichols, Computational and Applied Mathematics
Nichols, from Bradenton, Florida, will return to Mines to complete his master's degree in Applied Mathematics and Statistics, with a specialization in Statistics.
Harrison Magee, Statistics
Magee, from Georgetown, Texas, is currently working as the site integration coordinator on the commercial team at Outrider.
Hadley Thomas, Chemistry
Thomas, from Fayetteville, Arkansas, has a fellowship in the U.S. Senate in the spring and then plans to start medical school in the fall.
Christian Schmelzel, Engineering Physics
Schmelzel, from Wheat Ridge, Colorado, will be working at Holland & Hart as a patent engineer.
OTHER UNDERGRADUATE AWARDS AND HONORS
The Alan Kissock Award is awarded to graduating seniors in metallurgical and materials engineering, acknowledging creativity in metallurgy: Mary Dougherty and Charles Smith
The Clark B. Carpenter Award is presented to the graduating seniors in mining or metallurgy who, in the opinion of the senior students in mining and metallurgy and the professors in charge of the respective departments, is the most deserving of this award: Olivia Denonno
The Emeritus Faculty Undergraduate Award is presented to an exceptional student as chosen by emeritus faculty in the Department of Mechanical Engineering: Ryan Frederickson 
The Faculty Choice Award in Chemistry is given to a top graduating senior who helped improve chemistry at Mines: Lauren Soares 
The Outstanding Service Award in Chemistry is awarded to a student who has demonstrated outstanding service to the Department of Chemistry: Colista West
The Outstanding Undergraduate Research Award in Computer Science is awarded to a student who demonstrates superior performance and creativity in undergraduate research: Zachary Smeton 
The John Steele Commemorative Service Award is given to one graduating senior that has displayed outstanding service to the Department of Mechanical Engineering: Ryan Shelby
Outstanding Student Service Award: Presented by the Division of Student Life to the students who, during their tenure at Mines, outside and above their academic role, vigorously participated in activities or projects for the greater benefit of their peers and community to promote excellence and well-being. Christian Palacios and Evaleena Reyes
The Physics Faculty Distinguished Graduate Award is presented by the faculty of the department to graduating seniors with exceptionally high academic achievement in physics: Ethan Hansen, Brendan Paver and Anna Thomas 
President's Senior Scholar Athlete Award: Presented to one graduating female and male athlete with a cumulative grade point average of 3.0 or higher, has lettered in a sport during their senior year and has demonstrated leadership qualities of an exemplary student-athlete. Delaney Duis, Women's Volleyball, and Ford Edwards, Men's Soccer
MILITARY COMMISSIONS
The following students will be commissioned as second lieutenants in the United States Army:
David An, Computer Science
Jacob DeHaai, Geological Engineering
Kiser Lee, Petroleum Engineering 
Carter Ortiz, Chemical Engineering
The following students will be commissioned as second lieutenants in the United States Air Force:
Brock Abeyta, Mechanical Engineering
Brittany French, Civil Engineering 
Justin LaVerde, Mechanical Engineering
JohnPaul Luke, Mechanical Engineering
Jack Mathes, Mechanical Engineering
Thomas Mitchell, Mechanical Engineering