Colorado School of Mines, Arapahoe Community College selected for Battery Workforce Challenge
12 student teams across North America to design, build, test and integrate an advanced EV battery into a future Stellantis vehicle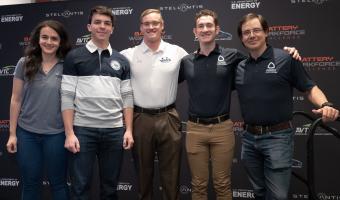 Colorado School of Mines and Arapahoe Community College have been chosen to participate in the Battery Workforce Challenge sponsored by the U.S. Department of Energy and global automaker Stellantis.
The Mines-ACC team is one of just 12 selected across North America for the three-year competition in which student teams are tasked to design, build, test and integrate an advanced EV battery into a future Stellantis vehicle. With the goal of building the next generation of engineers, technicians and workers to address the unprecedented demand for a domestic EV workforce, the competition will provide an immersive hands-on learning experience for all students to gain valuable engineering skills that transcend the classroom environment.
As part of the BattChallenge, each university is also teaming up with a local community college, trade school or vocational partner to help prepare a diverse workforce for future battery engineering and manufacturing careers. ACC is home to one of the best automotive technology programs in the nation, with students working in the local automotive industry while also taking academic and automotive courses at ACC.
"The Battery Workforce Challenge is a really great opportunity for students to get hands-on experience doing work in the EV industry, and Mines is so excited to be teaming up with Arapahoe Community College to compete," said Joe Eriqat, a master's student in robotics at Mines and the team's project manager. "The automotive program at Mines is really starting to ramp up, and this is a chance for us to build that program out and make it a defining feature at Mines."
Automotive engineering is one of eight tracks that undergraduate students majoring in Mechanical Engineering at Mines can select to specialize their course of study, an option that was first offered in 2022-23. But Mines students have long shown interest in the area, through student clubs, Capstone Design projects and competitions like Formula SAE, Shell Eco-Marathon and the SpaceX Hyperloop Pod Competition.
Over the next three years, teams in the BattChallenge will follow real-world industry milestones focused on battery design, simulation, controls development, testing, vehicle integration and demonstration. Teams will design a custom battery pack utilizing production battery cells and complete a professional battery design review with the competition's subject matter experts. Once they meet the rigorous automotive safety and design requirements, the teams will build, test and integrate their advanced battery packs into a production Stellantis vehicle.
This hands-on experience will include functions such as wiring, battery management (monitoring voltage, current, temperature, safety and controlling power interface and cell balancing), structural integrity, thermal management, power interfacing, SOC/SOH/ estimation, cell balancing, fusing, power bussing, and packaging that will all be integrated into a real Stellantis vehicle.
"We are incredibly excited to offer this immersive, hands-on, industry-based experience to our students," said Mechanical Engineering Teaching Assistant Professor Polina Ringler, who leads Mines' automotive program along with Teaching Assistant Professor Adam Duran. "The BattChallenge will not only give our students valuable skills in battery design, manufacturing, and testing beyond the classroom, but will also build their project management, communication, teamwork, and problem-solving skills."
BattChallenge is sponsored by the U.S. Department of Energy and Stellantis, and is managed by Argonne National Laboratory. Additional sponsors for BattChallenge will include industry partners participating in the electric vehicle and battery industries. Created by the merger of Fiat Chrysler and PSA Group, Stellantis is the maker of Jeep, Dodge, Ram and Chrysler vehicles.
"The goal of this project isn't so much to build the best electric car – it's to build the next generation of workforce for battery technology," Eriqat said. "At the same time, it's going to be a great opportunity to take a stab and see if we can come up with some advancements and interesting technology that can help the battery field. We're going up against the automotive superpower colleges in this."