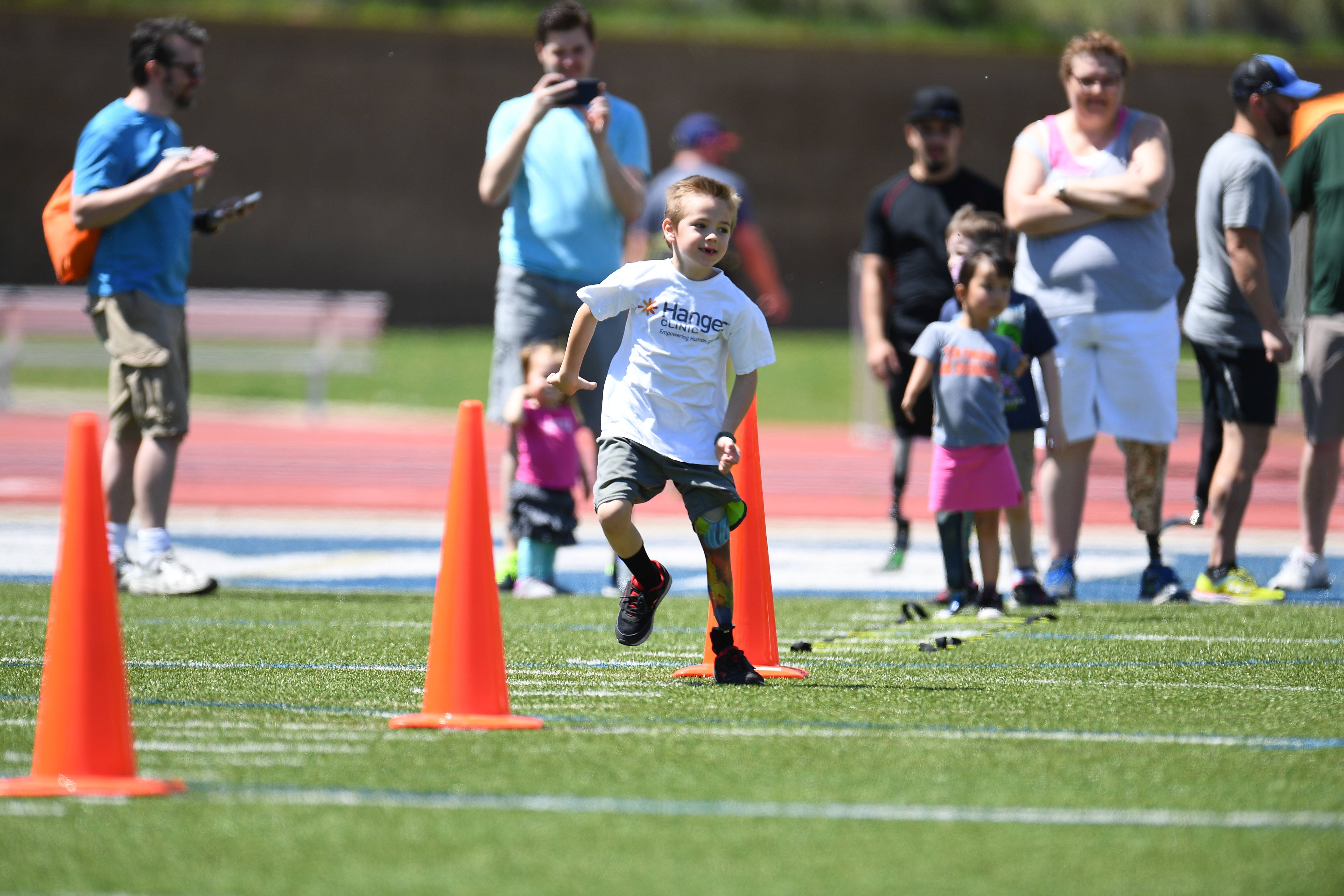 This Saturday, more than 30 Coloradans with limb loss or limb difference will hit the track at Colorado School of Mines to practice being mobile, from walking to running and more.
The sixth annual Colorado Adaptive Mobility Clinic, organized by local prosthetics provider Hanger Clinic, is designed to help amputees of all ages become more active and see what's possible with perseverance, clinical support, and prosthetic devices tailored for running and other goals. Local professionals will be on-hand to offer support and guidance, from certified prosthetists to adaptive sports instructors to Mines professors and students specializing in biomechanics and adaptive mobility.  
Mines professionals at the Mobility Clinic will include Anne Silverman, associate professor of mechanical engineering, who leads the Functional Biomechanics Laboratory; and Joel Bach, associate professor of mechanical engineering and director of the Ability Research & Design Group. Both labs are focused on developing innovative solutions for people with musculoskeletal disabilities, whether that's targeted rehabilitation programs, assistive devices or adaptive sports equipment.
One first-time participant, 45-year-old below-knee amputee and father of three John Holman, is driving up from Colorado Springs with his family and hopes to test a running blade, as well as connect with other member of the Colorado limb loss and adaptive sports communities.
Media are invited to the clinic, where they can interview John and other participants. (Media Note: High-resolution images from previous Colorado Adaptive Mobility Clinic events can be downloaded at hanger.box.com/v/COMobility2017 and hanger.box.com/v/COMobility2016.)
About Colorado School of Mines
Colorado School of Mines is a public university focused on science and engineering, dedicated to educating and inspiring students, advancing knowledge, and innovating to address the great challenges society faces today—particularly those related to the Earth, energy and the environment. 
About Hanger Clinic
 Founded in 1861 by the first amputee of the Civil War, Hanger Clinic, a subsidiary of Hanger, Inc., owns and operates more than 800 patient care clinics nationwide, including 22 in Colorado. The certified clinicians of Hanger Clinic provide patients with the latest in orthotic and prosthetic solutions, including microprocessor devices for those with limb loss and neuromuscular technologies for those with paralysis due to stroke, MS and other debilitating conditions. For more information on Hanger, visit www.Hanger.com, and for more information on Hanger Clinic, visit www.HangerClinic.com. 
(Photo credit: Courtesy of Hanger Clinic)
CONTACT
Scott Taylor, On-Site Media Contact for Hanger Clinic | 303-305-9897 | staylor@hanger.com
Emilie Rusch, Public Information Specialist, Colorado School of Mines | 303-273-3361 | erusch@mines.edu