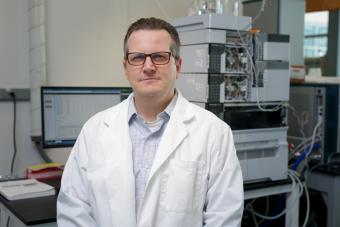 Christopher Higgins, professor of civil and environmental engineering at Colorado School of Mines, has been recognized for the top environmental restoration project of the year by the U.S. Department of Defense's environmental science and technology program.
The Strategic Environmental Research and Development Program (SERDP) announced the winners of its 2020 Project of the Year Awards at the Virtual SERDP and ESTCP Symposium held Nov. 30-Dec. 4. The annual awards recognize scientific advances and technological solutions to some of DoD's most significant environmental and installation energy challenges.
Higgins, an environmental chemist and leading expert on poly- and perfluoroalkyl substances (PFAS), led a team of researchers from CDM Smith, Oregon State University,​ and University of California, Berkeley on work to facilitate the development of specific treatment strategies for groundwater contaminated with comingled PFAS and hydrocarbon and/or chlorinated solvent plumes – an increasing concern for the DoD.
Together, the researchers "established a more complete and coherent foundation on the role of source zones and low permeability materials on PFAS release," SERDP wrote. "These data provide insight into the fundamental processes controlling fate and transport of PFAS in groundwater at aqueous film-forming foam(AFFF)-impacted sites."
"As we start to develop remediation strategies for the thousands of AFFF-impacted sites around the U.S., it is critical to understand how remedial technologies applied for other contaminants has affected (or will affect) the composition and distribution of PFAS," Higgins said. "The PFAS are very likely still there, but our work suggests the mixtures of PFAS present could change as a result of co-contaminant remediation."
In addition to Higgins, team members included Jennifer A. Field of Oregon State University​, Charles E. Schaefer of CDM Smith​, and Lisa Alvarez-Cohen of University of California, Berkeley.
For more on the winning project, "Key Fate and Transport Processes Impacting the Mass Discharge, Attenuation, and Treatment of Per- and Polyfluoroalkyl Substances and Comingled Chlorinated Solvents or Aromatic Hydrocarbons," check out the blog post on the SERDP-ESTCP website.
Created by Congress in 1990, SERDP is DoD's environmental science and technology program, planned and executed in partnership with the U.S. Department of Energy and Environmental Protection Agency, with participation by numerous other federal and non-federal organizations. SERDP invests across a broad spectrum of basic and applied research, as well as advanced development.