Ask the expert: How do hydrogen electrolyzers work?
The director of the Colorado Fuel Cell Center explains the process that turns intermittent wind and solar energy into carbon-free green hydrogen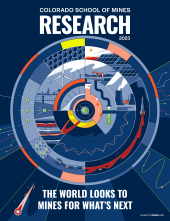 By Emilie Rusch, Special to Mines Research Magazine
The Colorado Fuel Cell Center has been exploring — and expanding — the possibilities of fuel cells and electrolyzers for a variety of inputs, outputs and applications for more than 15 years now.
But what's got Neal Sullivan, associate professor of mechanical engineering and the center's director, really excited these days is using the technology to create green hydrogen at scale.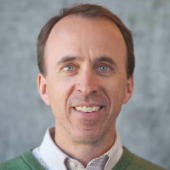 "Colorado School of Mines is uniquely positioned to develop the building-block technology behind these electrolyzers, or what I like to call flow batteries," Sullivan said. "Our faculty are experts from many complementary scientific perspectives. We've got fundamental material scientists looking at how we design the optimal materials to get highest possible performance and widest possible range, and by the end of this year, the Colorado Fuel Cell Center will turn on a 30-kilowatt fuel cell system. Most universities are doing 1W or 2W. Because we're able to handle that level of technology, spanning from fundamental materials discovery at the sub-Watt scale, to complete electrolyzer systems at the tens-of-kW scale, we can study things that most universities cannot. We can partner with commercial developers and help them get to where they want to go."
Here, Sullivan walks through the process that turns intermittent wind and solar energy into hydrogen that can be stored, transported and used whenever it is needed for chemical production, clean steel manufacturing, transportation and more.
"What makes green hydrogen 'green' is what is not in it — there's no carbon in this green-hydrogen process," Sullivan said.
Learn more about hydrogen research at Mines: