Alumnus' gift propels the future of humanitarian engineering at Colorado School of Mines
Charles and Louanne Shultz have supported the Mines Humanitarian Engineering program since its early days in 2013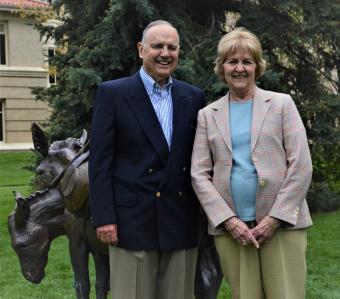 Charles Shultz '61 and his wife, Louanne, have provided a generous gift to Mines' Humanitarian Engineering (HE) program to support the program's continued growth, reach and impact inside and outside the university. The Shultzes have supported the program since 2013, when they made their first gift to the program in its early years.
Humanitarian Engineering at Mines is a unique program that encompasses multiple academic options as well as scholars and fellows programs. The overarching goal is to prepare scientists and engineers to think beyond the technical aspects of the problems they are working on and to consider local community and broader societal needs so that the solutions they create are truly sustainable. 
The Humanitarian Engineering program is being led by Dr. Kevin Moore, who is also the director of the Robotics Program at Mines and a professor in the Department of Engineering, Design and Society and the Department of Electrical Engineering. His leadership roles at Mines have included serving as Dean of the College of Engineering and Computational Sciences, Dean of Integrative Programs and Vice Provost of Strategic Initiatives.
"Humanitarian Engineering has developed into a strong, robust program that enables students to understand that impactful engineering requires not just a technical expertise, but a contextual knowledge of the relationship of technology with society and the environment," Moore said. "The Shultzes' gift provides us with time and resources that will allow us to engage new faculty to teach HE concepts in their classes, support student projects in the community and more."
The Shultzes share Moore's vision for a program that continues to build upon its success.
"We've established that Mines can have an excellent HE Program and there is a lot of student interest," Charles Shultz said. "This gift is designed to ensure the program will continue to be sustainable for many years to come, allowing HE at Mines to become one of the best programs of its kind in the country."
"Chuck and Louanne Shultzes' vision, passion, and support for the Humanitarian Engineering Program has been a catalyst for its success, and it has already had significant impact inside and outside Mines," said Colorado School of Mines President Paul C. Johnson. "I know students who chose to come to Mines because of this very distinctive program. I'm looking forward to seeing its growth and the impact that graduates, scholars and fellows from this program have on the world."
About the Donors
Charles E. Shultz '61 is the principal of Dauntless Investments, LLC. He was formerly the chairman and chief executive officer of Dauntless Energy, Inc., a company he started in early 1995. In his 60-year career, he has served in numerous capacities in the energy industry, including as senior vice president of Tenneco Oil Company and president/CEO of Gulf Canada Resources Limited. In addition, he founded and chaired several private and public companies. He also served on numerous nonprofit boards.
A dedicated Mines volunteer, Shultz's service to the university began in 1988 as a member of the Boettcher Challenge Committee. He is a current member of the Colorado School of Mines Foundation Board of Governors and serves on the Executive Committee. He previously served as the co-chair of the Transforming Lives campaign and on several additional Mines committees and boards. He was awarded the Colorado School of Mines Distinguished Achievement Medal in 1986.
Mr. Shultz's wife, Louanne, is the daughter of Mines alum John Christmann Jr. '36. Both the Shultz and Christmann families have a long affiliation with Mines, spanning three generations, including Chuck and Louanne's daughter, Julie King '86 and her husband, Scott King '85. The Shultzes also have a son, Steven.
About Colorado School of Mines
Colorado School of Mines is a public university focused on science and engineering, dedicated to educating and inspiring students, advancing knowledge and innovating to address the great challenges society faces today—particularly those related to earth, energy and the environment.
Founded in 1874 with specialties in mining and metallurgy, Mines' scope and mission have evolved to meet the needs of industry and society, producing distinctive graduates and revolutionary innovations, with impact to the energy, aerospace, civil infrastructure, defense, IT, health and earth resource industries.