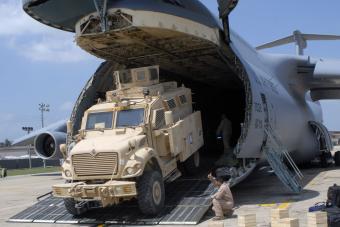 An interdisciplinary team led by Colorado School of Mines is using process sensors, design optimization, materials science, physics-based modeling, and mechanical testing combined with machine learning to help the U.S. Army qualify additive manufacturing parts for their ground vehicle fleet.
The Alliance for the Development of Additive Processing Technologies (ADAPT), an interdisciplinary additive manufacturing research center and industry consortium at Colorado School of Mines, has received an additional $4.2 million in funding from the U.S. Army for the second phase of a project focusing on data driven qualification for additive manufacturing (AM) – a process also known as 3D printing.
Working through a contract with America Makes, an interdisciplinary team of faculty and students within ADAPT is developing strategies to implement AM faster and more efficiently within the U.S. Army's ground vehicle fleet. The first phase of this project kicked off in December 2020.
"The U.S. Army will benefit greatly from the advantages of additive manufacturing by reducing the sustainment burden, increasing readiness, creating an alternate source of supply, and developing new parts that outperform traditionally manufactured parts," said Craig Brice, director of ADAPT and professor of practice in mechanical engineering at Mines.
Currently, a major limiting factor for the adoption of AM parts for structural applications is the challenge of qualification. The wide range of AM process types, equipment suppliers, manufacturing parameters and feedstock formulations makes each system unique and subject to its own qualification protocol.
The second phase of this project will continue work to discover fundamental knowledge of the relationships between processing, microstructure, and properties for metal parts built with different machines and types of processes. This knowledge enables a data-driven qualification approach that will allow relationships across platforms to be inferred using intelligent machine learning algorithms backed by physics-based modeling. A predictive capability for properties and performance across AM systems will reduce the overall data burden and qualification timeline for new processes and materials.
Founded in 2016, ADAPT provides expertise in materials development and characterization, fundamental processing understanding, processing-structure-property relationships, AM process monitoring and control, machine learning and qualification and certification. Members of ADAPT benefit from access to world-class expertise, breakthrough technologies and cutting-edge research across the AM process chain.
For more information, please visit our website (https://adapt.mines.edu) or contact ADAPT at ADAPT@mines.edu.
Editor's note: DISTRIBUTION A. Approved for public release: distribution unlimited. OPSEC #6858