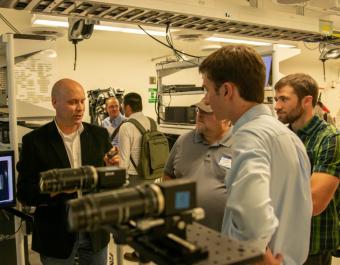 The Alliance for the Development of Additive Processing Technologies (ADAPT) celebrated the grand opening of its new laboratory facilities at Colorado School of Mines this week.
Members of the industry-academia consortium joined Mines leadership, state officials and guests Aug. 26 at the ribbon-cutting ceremony in the CoorsTek Center for Applied Science and Engineering.
Among the new ADAPT facilities:
Mines Advanced Visualization and Simulation (MAVS) Studio: Dedicated to virtual and augmented reality (VR/AR) for materials manufacturing research and education, the MAVS Studio is led by Garritt Tucker, associate professor of mechanical engineering
Hildreth Lab: Led by Owen Hildreth, assistant professor of mechanical engineering, the chemistry lab focuses on phenomena involved in nanometer- to centimeter-scale additive manufacturing technologies, including dissolvable supports for 3D-printed metals and using reactive inks to reduce the costs of solar cells.
Data-Driven Advanced Manufacturing & Mechanics Lab: This laboratory, dedicated to developing high-throughput, data-informed manufacturing and mechanical behavior research and development technologies, is directed by Aaron Stebner, Rowlinson Associate Professor of Mechanical Engineering.
In nearby Brown Hall, the Advanced Manufacturing Program, led by Mechanical Engineering Professor of Practice Craig Brice, has also opened a new teaching lab, dedicated to student exploration of various equipment and systems, with options to work with polymers, metals, ceramics and biological materials while also optimizing structural design and capturing and interpreting important process data.
"The opening of these new facilities at Mines provides permanence to ADAPT's ability to fulfill its mission of optimizing additive manufacturing" said Stebner, executive director of ADAPT. "These state-of-the-art laboratories provide the foundational tools and spaces for ADAPT to meet the challenges put to us by our industry and government members."