9 PFAS treatment, destruction technologies to be tested side by side at Colorado military base
Colorado School of Mines is leading a multi-institution research effort to test the effectiveness of treatment technologies in PFAS-contaminated soil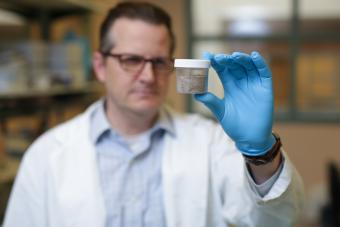 When poly and perfluoroalkyl substances (PFAS) leach into the environment, it is not just water that can be impacted.
PFAS can also contaminate soil but removing these so-called "forever chemicals" from soils and sediment requires a different approach.
Colorado School of Mines has assembled a team of internationally recognized PFAS researchers and practitioners to determine how to best treat PFAS-contaminated sediment or soil in a side-by-side test of the leading field-ready technologies. All fieldwork will take place at Schriever Space Force Base, just outside of Colorado Springs, Colorado.
Researchers seek to establish a physical testbed and technology testing framework for side-by-side assessment of treatment techniques for PFAS-impacted sediments. In addition, they will develop and test prototype treatment technologies for destruction of PFAS associated with soils and sediments highly contaminated with firefighting aqueous film forming foam (AFFF). The Mines team will evaluate three different soil and sediment treatment technologies as well as three destructive technologies that can handle concentrated waste streams. An additional team, from Clarkson University in New York, will test another three treatment and destruction technologies. Side-by-side testing at Schriever will start this fall and last about a year.
"The PFAS load in soils and sediments impacted by AFFF is immense and, if left untreated, will lead to significant long-term liabilities for downstream groundwater users," said Chris Higgins, University Distinguished Professor of Civil and Environmental Engineering at Mines and lead principal investigator for the Mines-led project. "We're excited to see how these technologies perform in a real-world, side-by-side comparison."
The six technologies to be evaluated by Mines and corresponding collaborators are:
Smoldering combustion technology by Savron Solutions
In pile thermal desorption (IPTD®) by TerraTherm
PFAS foam assisted soil treatment (PFAST®) by Allonia
Hydrothermal alkaline treatment (HALT) by Aquagga
Supercritical water oxidation (SCWO) by 374Water
Ultraviolet-activated silica-based granular media (UV/SGM) by University of Missouri-Kansas City
The Clarkson University team, which includes Mines alum Michelle Crimi PhD '02, Dean of the Clarkson Graduate School, will be evaluating an additional three technologies individually and coupled together. The three technologies to be evaluated by Clarkson at Schriever include ball milling, which destroys PFAS on soils and sediments; soil washing, which removes PFAS from soils and sediments; and plasma destructive treatment of PFAS in the wash solution. The Clarkson team is being led by Assistant Professor Yang Yang and they are working in collaboration with GSI Environmental, Inc.
"This is an incredible opportunity to evaluate different technologies under common field characteristics and conditions," Crimi said. "I really look forward to working alongside colleagues from my alma mater. Both institutions are at the forefront of treating PFAS in soil and groundwater. It will be great seeing them in action together."
The Mines team, working with Geosyntec Consultants, UC Berkeley and Texas Tech, will evaluate each technology using multiple lines of evidence within an independent framework developed to allow for meaningful comparisons of the technologies. Funding to develop the framework and conduct the tests comes from the U.S. Department of Defense Environmental Security Technology Certification Program (ESTCP).