3D-printed cake icing? Mines research team uses bakery staple to advance additive manufacturing for materials R&D
Led by Mechanical Engineering's Veronica Eliasson, researchers found a way to make Direct Ink Writing, an expensive 3D-printing process for specialty materials, more accessible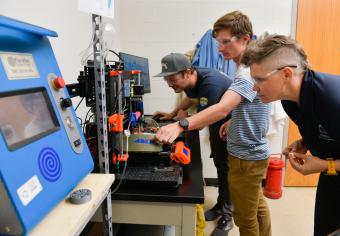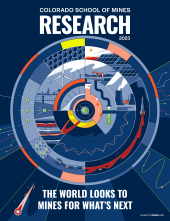 By Ashley Spurgeon, Special to Mines Research Magazine
3D printing provides many advantages to manufacturing, from the ability to produce specialty parts to streamlining production processes. But it can also be costly, especially when dealing with uncommon materials that require specific printing parameters and is limited primarily to lab settings.
However, a team of Mines researchers, led by Veronica Eliasson, associate professor of mechanical engineering and director of Mines' Explosives Research Lab, found a way to make an expensive 3D-printing process for those specialty materials into a more accessible system.
The Mines team is working on a 3D-printing method called direct ink writing (DIW), an extrusion-based additive manufacturing method. A paste-like material is dispensed out of small nozzles under controlled flow rates and deposited along digitally defined paths to fabricate 3D structures. DIW allows almost any flowable material to be printed with enhanced opportunities to mix materials and create gradients. But the 3D printers that allow this kind of extrusion are often expensive and inaccessible.
"The crux of our research is trying to make this more affordable so that more people in academia and other areas of research have access to high-fidelity methods of direct ink writing 3D printing,"said Gabriel Bjerke, a materials science PhD student working on the project. "Basically, we were able to take a system that has cost other people $80,000 to $200,000 to produce and reduce the cost to about $5,000 and get a very comparable quality of extrusion."
The researchers took a standard desktop 3D printer that normally prints plastic film and made modifications and calibrations, changed out some components and ran countless tests to get it to replicate the capabilities of a custom high-end DIW printer — without the high price tag
"We basically tricked our whole printer into thinking it's doing normal printing," said Max Sevcik, a master's student in metallurgical and materials engineering. "But we ramped up different settings to make it print exactly how we want."
3D-printing "exotic" materials, like cake icing
Making DIW printing cheaper and more accessible opens up many doors for manufacturing, particularly when dealing with exotic materials that are more complex to print. But it also comes with unique challenges.
"The materials themselves have to have rheological characteristics that allow them to be printed," Bjerke said. "If it's too thick to be extruded, it can be very tricky to modify the formulation so it will actually print. And the material itself is not self-supporting sometimes, especially when we get to the more exotic materials, and won't keep its shape. You could have 20 different parameters to tune each time you want to make a small change."
To test this, the researchers have been experimenting with cake icing as a mock material. "It has desirable flow characteristics for DIW printing, but if you just print it just pure, it's going to start to slump and relax after printing and won't keep its shape," Sevcik said."To combat this, we've added extra granulated sugar to increase the viscosity and adjusted our process parameters accordingly to get good control over our extrusion."
Then when combining materials, those calibrations become even more complex when different materials require different extrusion parameters. "There's all sorts of thermochemical interactions that have to be taken into account, and we have to completely customize the whole thing," said Rodrigo Chavez Morales, a postdoctoral researcher on the project.
The process of making, testing and repeating processes in-house makes researching at Mines unique, Eliasson said. "We can make everything here and test them here," they explained. "We have a whole ecosystem where we can be self-sustaining but invite other people to be part of it, which is super cool."