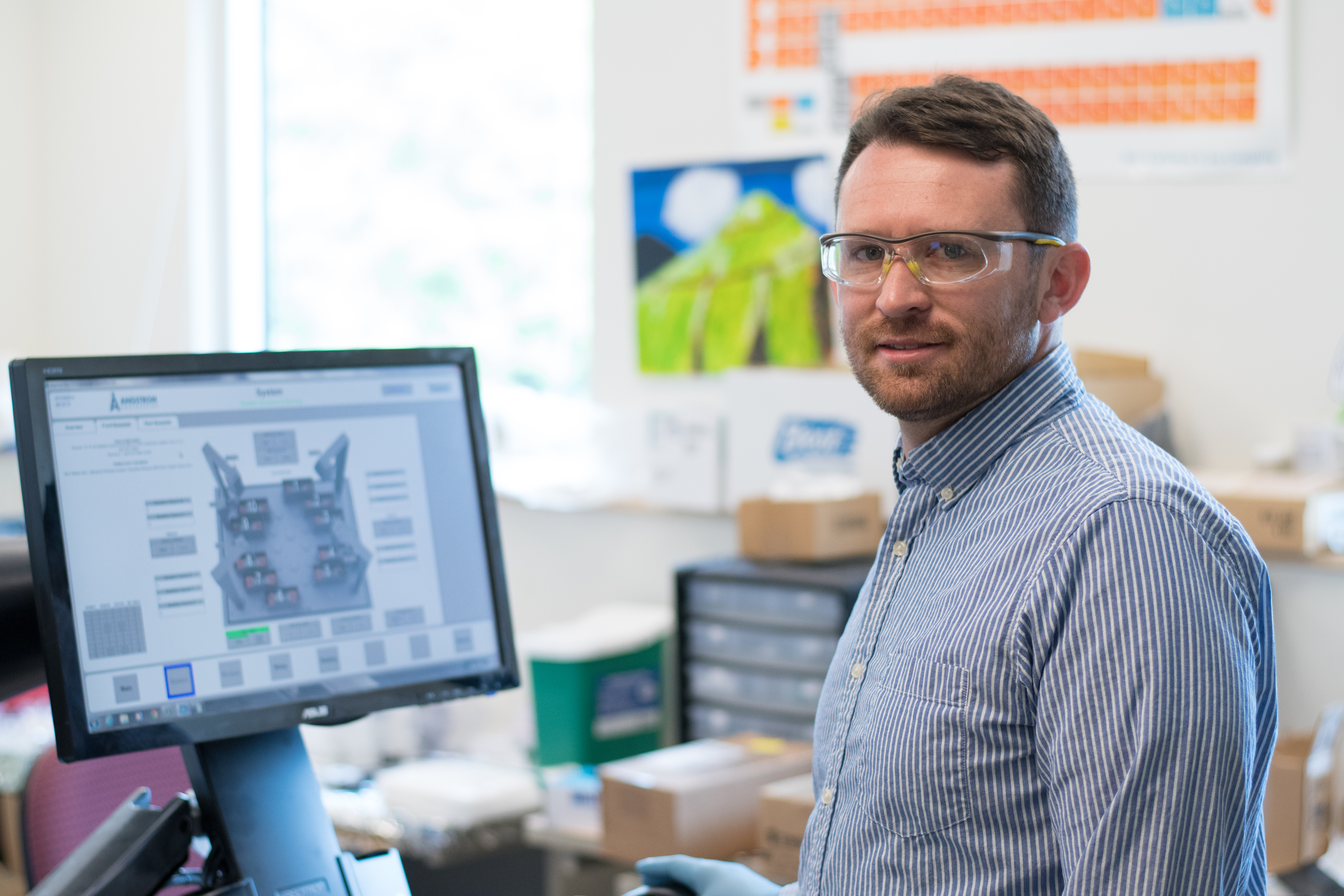 Jeramy Zimmerman, assistant professor of physics at Colorado School of Mines, has been selected for the U.S. Department of Energy's Early Career Research Program.
Zimmerman will receive $750,000 over five years to support his research on understanding and controlling aggregation processes in mixed-molecular solids—work that has direct applications to something in most everyone's pocket or purse right now: their smartphones.
"In many phones, each pixel in the display is actually an organic light-emitting diode," Zimmerman said. "We currently aren't sure why they don't work as efficiently as they should. The information we are collecting will allow us to unravel this mystery." 
Zimmerman was one of 59 scientists at universities and national laboratories across the U.S. chosen for the award this fiscal year, selected from about 700 proposals, DOE's Office of Science announced Aug. 9.
Two Mines faculty members—Zimmerman and mechanical engineering assistant professor Steven DeCaluwe—received the honor this year, the school one of only seven universities nationwide to have multiple winners. 
"Jeramy's use of 3-D atom probe tomography methods to characterize mixed molecular solids on the molecular level and to correlate and control their structure and properties is truly groundbreaking research," said Michael Kaufman, dean of the College of Applied Science and Engineering. "This prestigious Early Career award from DOE recognizes this early success and will enable him to take his preliminary research to the next level, which could significantly impact several important technologies that utilize these types of materials."
The idea for Zimmerman's research originated during a phone interview with Mines in 2013. A 2002 graduate of Mines, he earned a PhD from the University of California, Santa Barbara, in 2008 and held postdoctoral fellow and assistant research scientist positions at University of Michigan from 2008 to 2013 before returning to Mines in 2014. 
Since rejoining Mines, Zimmerman's group has been developing techniques to use atom probe tomography on molecular organic systems, allowing them to get chemical and structural information on a smaller scale than ever achieved before. 
"It is very exciting to receive this award as we are the only group currently performing this analysis and it provides previously unavailable information that allows us to understand solids made from mixtures of different molecules," Zimmerman said.
Now in its eighth year, the Early Career Research Program provides support to scientific researchers during the important early years when many do their most formative work. 
"This work will enable new opportunities for training of undergraduate and graduate students and the results will be translated into meaningful directions that have practical real-world implications," said Jeff Squier, professor and head of the Physics Department. "These awards are extremely difficult to attain and, as such, are a measure of the significance and innovation of the research program Dr. Zimmerman is creating at Mines."
For more information, go to science.energy.gov/early-career/ or inside.mines.edu/~jdzimmer/.
CONTACT
Emilie Rusch, Public Information Specialist, Communications and Marketing | 303-273-3361 | erusch@mines.edu
Mark Ramirez, Managing Editor, Communications and Marketing | 303-273-3088 | ramirez@mines.edu