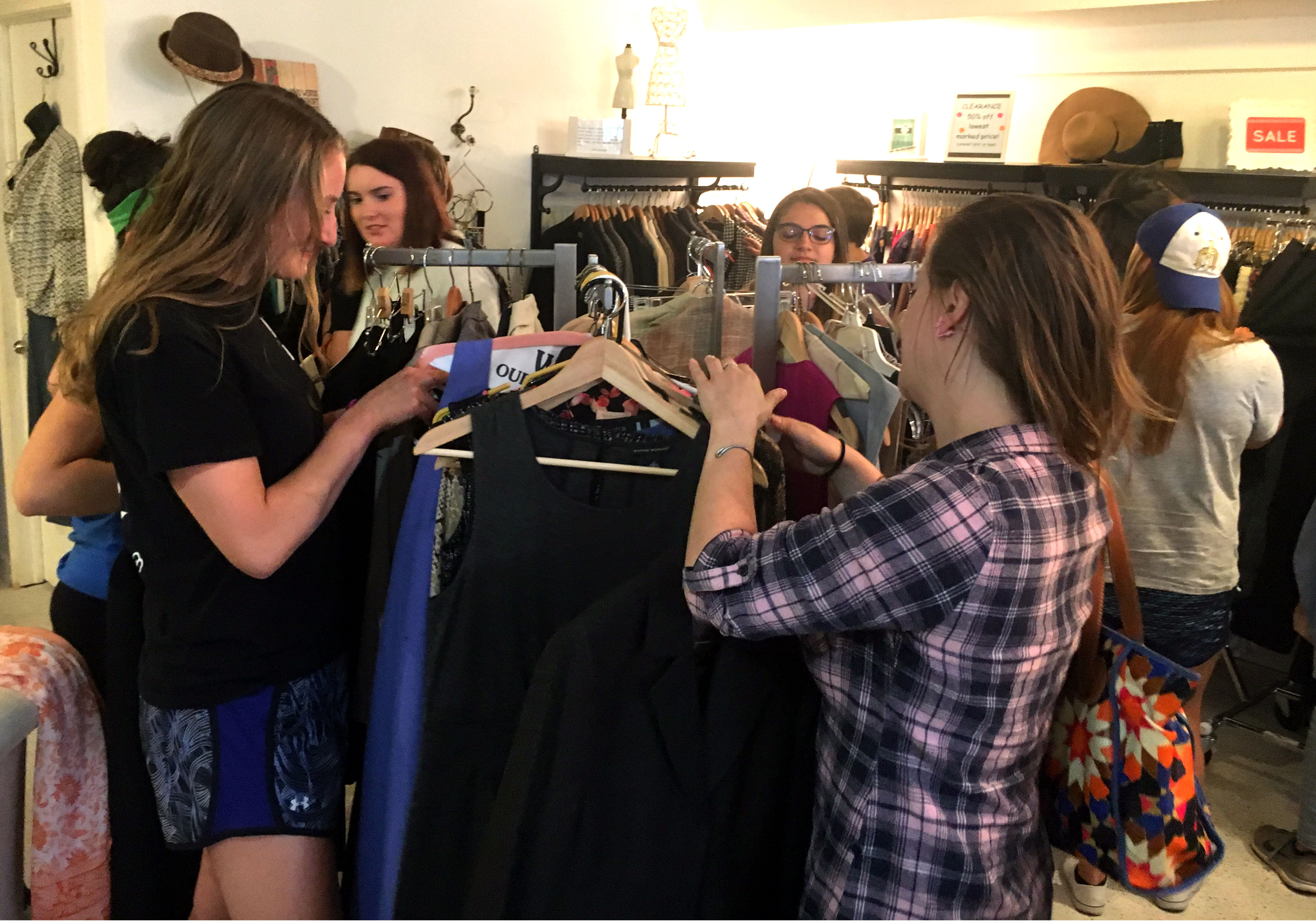 The Women of Mines Interest Group joined staff from Golden's Truly BoHotique to host a Dress for Success event Sept. 6 in advance of Fall 2018 Career Day.
Truly BoHotique hosted the event at its store in downtown Golden. Alumnae and Golden community members donated gently worn women's professional and business clothing to make the event possible. 
Students had the opportunity to pick out one outfit to wear to Career Day on Sept. 11 to impress potential employers. Approximately 60 students found business attire that suited them and many were grateful for the opportunity to take home high-quality and designer-label business clothes.
"The culture of the store is really about empowering women," said Ali Stofflet, marketing and social media manager at Truly BoHotique.  
Picking out an outfit wasn't as easy as it may seem, however. One student who felt overwhelmed by the process told Stofflet she didn't feel like she had a good grasp of current fashion trends and which items would work best for her. 
"You know, I'm not good at math, you're not good at fashion, but we all have our strengths," Stofflet reassured the student before helping her pick out an outfit that would boost her confidence and help her feel ready to meet company recruiters.
The day after the Dress to Impress event, Nadine Wilson, owner of Truly BoHotique, spoke at the Society of Women Engineers' meeting on campus. Building on what the students learned from picking out appropriate business attire, Wilson's presentation focused on how to prepare for Career Day, create good first impressions and general business etiquette.
"I've been really fortunate in my career to work with inspiring women, and I really saw Truly BoHotique as an avenue to support women in the community. It was a way to pay it forward," Wilson said. "Especially with college students, we could help them get off to the right start in launching their careers. It was in line with women supporting women."
"We should all really support each other, especially women," Stofflet said. "We wanted these women to go into Career Day feeling better about their prospects. They lend their talents to the world, and we can lend ours."
CONTACT
Ashley Spurgeon, Editor, Mines Magazine | 303-273-3959 | aspurgeon@mines.edu
Emilie Rusch, Public Information Specialist, Communications and Marketing | 303-273-3361 | erusch@mines.edu