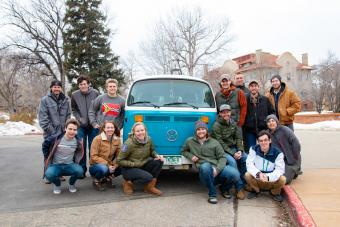 A 1979 Volkswagen Bus successfully converted from gas to electric power is the winner of the Fall 2020 Capstone Design Showcase.
And it wasn't just any bus—team leader Gracie Cole's parents bought the VW van brand-new off the lot and it has been in her family ever since. Re-Volt's goal was to retain the van's road trip and car camping capabilities while aiming for a 250-mile range and comfortable highway cruising speed of 70 mph.
The customized electrification process included both off-the-shelf components and in-house manufactured items. Other upgrades were made, as well, to modernize the user interface, increase safety, and preserve the rich history of the bus.
Rounding out the winning team were Garrett Shirley, Layton Blankenship, Cesar Chacon, Mason Elliot, Luke Greenidge, Dylan Greenman, Loren Griffeth, Timothy Helmer, Brandon Horgan, Evie Oglesby, Maxwell Porter, Erin Smethers, Alex Vogel and Andrew Wood.
Placing second in the virtual showcase was Manufacturing Improvements for Military Avionics Cooling Chassis. Sponsored by Mario Saldana MS '15, PhD '16 of Roccor, the team designed a prototype design and method of manufacture for improved avionics cooling chassis structures—necessary to rapidly dissipate the heat generated by increased data processing and power consumption in modern aircraft computing.
Team members were Nicholas Navarro, Nick Mulay, Ryan Frederickson, R. Cole Miller, Erchis Erdenebat, Zack Amatelli and Greg Duncan
Third place overall went to Team Opera, which designed a heating system for the Central City Opera House to render the nearly 150-year-old building functional during the winter. Team members were Rion Gipson-Hansen, Hunter Hodge, Nicholas (Nick) Kistler and Connor Stutsman-Plunkett.
Taking fourth place was Control Patrol. Sponsored by GeoStabilization International, the team designed a perimeter protection system for remote area construction sites that is lightweight, easy to install, durable and able to meet all OSHA, ANSI, and CSA standards. Team members were Austin Schwaderer, Gage Gellerman, Jose Ibarra, Joshua Olson and Kevin Medina.
Capstone projects were also recognized for their innovation, societal impact, proof of concept and websites:
Best of Award for Innovation: Control Patrol
Best of Award for Societal Impact/Human Systems: Re-Volt: Recharging a Legacy​
Best of Award for Proof-of-Concept: Control Patrol
Best of Website Design & Engagement: Re-Volt: Recharging a Legacy​
The Fall 2020 Broader Impact Essay winners were:
First place: Magnolia Cook for "Broader Impacts of Social Media and Targeted Content"
Second place: Olivia Geesen for "LA Aqueduct – Killing a Community for the Sake of a City"
Third place: Nicholas Gonzalez for "A Positive Reaction to Nuclear Energy"