University team from Poland wins second annual Over the Dusty Moon Challenge
SpaceTeam AGH were second place in last year's lunar regolith technology competition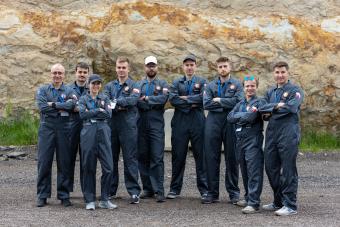 SpaceTeam AGH, a student team from AGH University of Science and Technology in Krakow, Poland, are the winners of the second annual Over the Dusty Moon Challenge. The competition, hosted by Colorado School of Mines and Lockheed Martin, was held May 31 to June 2 on the Mines campus.
For the challenge, teams had to demonstrate the prototype systems they designed and built to move lunar regolith – or moon dust – from one area to another while also sorting out larger rocks from the finer particles. Teams were judged based on the amount of regolith simulant transported, system mass, energy consumed, dust tolerance and generation, autonomy and overall performance.
"This year's competition was a big success again – we braved the weather and almost all teams were able to successfully transport regolith with their systems," said Kevin Cannon, assistant professor of space resources at Mines.
The first-place prize was $5,000, with second place awarded $4,000 and third place $3,000. The three winning teams were:
1st place: SpaceTeam AGH (AGH University of Science and Technology, Poland)
2nd place: Aussienauts (University of New South Wales, Australia)
3rd place: Spaceship EAC (Universitat Politècnica de Catalunya in Spain, TU Delft in Netherlands, EEIGM in France, RWTH Achen University in Germany, Universita di Pisa in Italy)
"The teams in this year's Over the Dusty Moon Challenge developed creative and meticulously crafted systems to facilitate the seamless movement of lunar regolith," said Hunter Williams, Business Development for Lunar Infrastructure at Lockheed Martin Space. "Lockheed Martin and our engineers are proud to support this event and share our engineering expertise as judges. I want to thank each team for their dedication and hard work, and I look forward to seeing what they do next."
The five teams competing in the finals had members hailing from nine different countries. Along with the three winning teams, the Rock Hoppers from Mines and the MoonAixperts from RWTH Aachen in Germany also competed.
See more photos from the second Over the Dusty Moon Challenge at mines.zenfolio.com/p232241200.