Taryn Tucker: "Applying all of the things I have learned in the last four years to my final project has made me realize just how well equipped I am for a career."
Colorado Springs, CO
Mechanical Engineering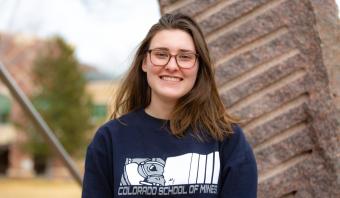 Why did you choose to come to Mines? What have you enjoyed most about being here?
I became interested in Colorado School of Mines because of its amazing reputation in the community. Once I was able to take a tour and participate in some on-campus events, I fell in love with the community. I knew Mines was the place for me because I felt right at home as soon as I stepped on campus for a tour. Overall I have enjoyed the people more than anything. The support system at Mines is unlike any other!
Tell us about something you're working on right now that you find exciting, fulfilling or challenging.
I am currently working on a senior design project which aims to solve the challenge of drilling for water on the moon and Mars. My team has built a drilling rig capable of extracting and purifying Lunar and Martian water for use in spacecraft refueling, and habitats in outer space. This project has been incredibly challenging and seeing it come together has been amazing. Additionally, applying all of the things I have learned in the last four years to this final project has made me realize just how well equipped I am for a career.
Have you done an internship or co-op or been in a professional job while at Mines? Tell us who you worked for and what you were doing. What stands out?
I have worked for Sierra Nevada Corporation on the Dream Chaser Spacecraft throughout my sophomore, junior and senior years at Mines. At the company I have excelled, being invited to stay on during the semester and contribute to the team in a variety of roles. The most incredible thing about my experience has been realizing just how well prepared I am to enter the engineering field. In my time at SNC I have held four drastically different roles, not just mechanical engineering positions. The variety of classes at Mines has made me well equipped to tackle any job in my way, not just traditional mechanical engineering work.
What communities, groups or organizations—on- and off-campus—are important to you and why?
The most important group to me is the Society of Women Engineers. I have had the honor of working on the executive team for this organization for the last three years and it has truly changed my life. The community it has provided, the resources it holds and the opportunities I have had are all much more than I could have imagined gaining from a college organization.
What are your plans for the future? What's your dream job?
I will be staying at Mines through spring 2021 to get my master's in mechanical engineering. After that, I plan to enter the aerospace field and help develop the technology that will change the future.
What would you tell someone interested in joining your academic program or Mines in general?
Excellent choice! Mechanical engineering is an amazing field that sets you up to accomplish any goal you could imagine. Having such a versatile degree makes you an excellent choice for any career field, and allows you to see the full scope of engineering. As for Mines, there is nowhere else in the world that feels so welcoming, the Oredigger family is more amazing than you could ever imagine!
What's your favorite thing to do outside of class and coursework? How do you unwind, manage stress, find fulfillment, etc.?
I love to bake! When I am not trying new recipes I love to spend time outdoors, hang out with my dog and cat, or spend time with my friends and family around the amazing areas of Colorado.
Tell us something about you that most people would be surprised to learn?
I came to Mines very introverted and shy. Now I am a prominent campus leader with a wide variety of skills that make most people think I am an extrovert by nature. Being in the right environment can really do wonders!