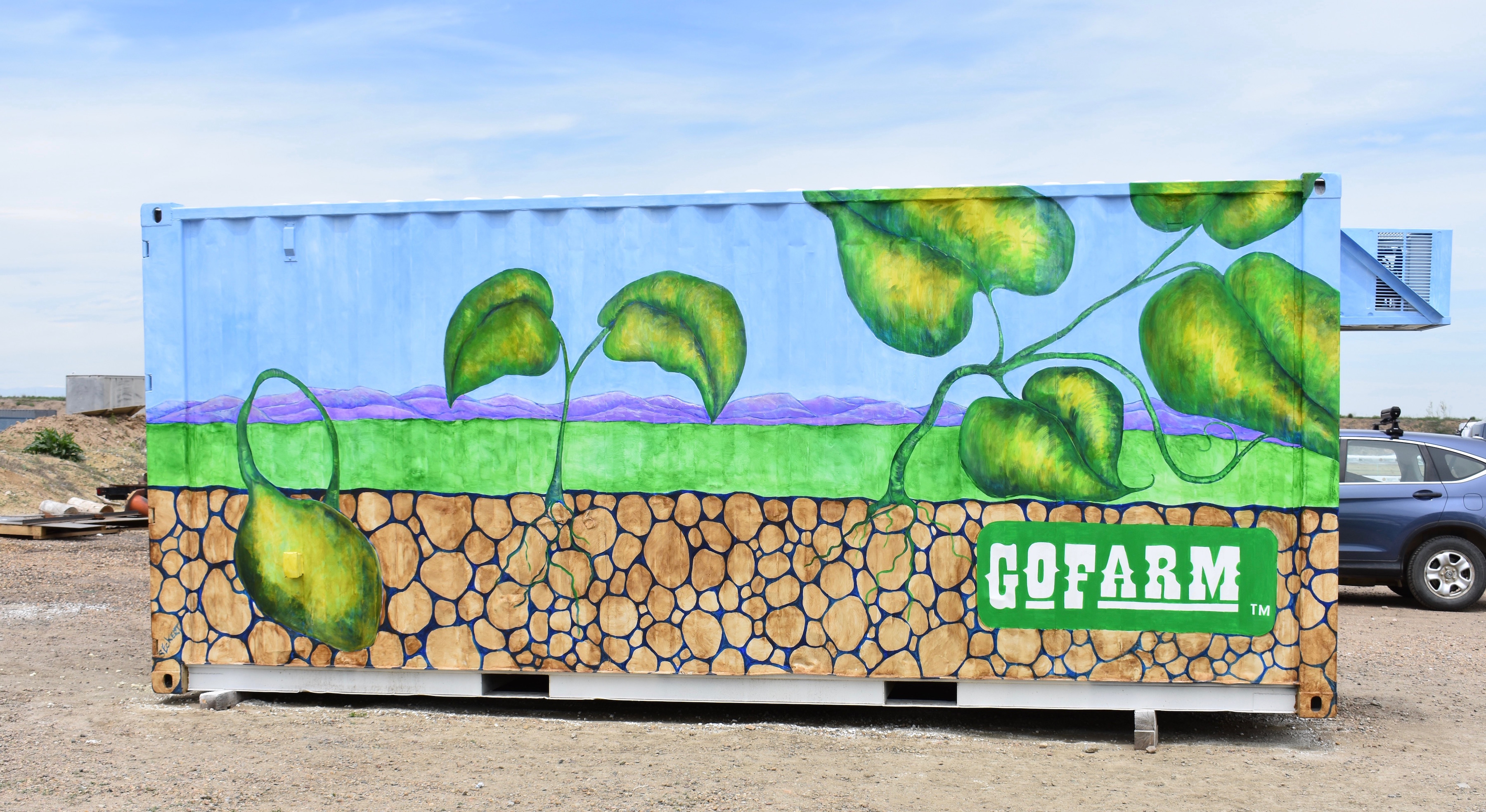 A geographic information system tool designed by Colorado School of Mines students is helping improve access to healthy, local food in Jefferson County.
It started as an EPICS II project in 2017, but the partnership with GoFarm, a Golden-based nonprofit dedicated to improving local food access, has continued to grow and thrive.
"GoFarm has benefited so much from the students' creativity and eagerness," said Eileen O'Rourke, founder of GoFarm. "One of the things I've been so delighted with is the talent and enthusiasm of the students in GoFarm's mission – there's a real awareness of why local food systems are so critical."
Earlier this summer, two new pickup locations for GoFarm's community-supported agriculture (CSA) program opened in Arvada – the first locations that GoFarm selected using the data from the Mines GIS project. 
One container is in northwest Arvada, outside Centura Health's Arvada Neighborhood Health Center at West 64th Avenue and Quaker Street. The other, a pilot program of GoFarm's proposed "Green Grocer" model, is in southeast Arvada, at the Jefferson County Head Start building at West 52nd Avenue and Allison Street.
"This is exactly the kind of partnership we want to foster through Engineering, Design and Society," said Juan Lucena, director of the Humanitarian Engineering program at Mines. "Humanitarian Engineering and GoFarm share a commitment to bringing social justice to communities in need – in this case, food justice to communities that lack healthy food choices."
GoFarm is growing its CSA using a three-pronged approach – one distribution point is located in a high-income area, one in a low-income area, and then both are connected with as many nearby farmers as possible. The container in the high-income area helps subsidize the low-income one, both sets of customers know they're helping farmers in their own community and the dollars all stay in the local economy, O'Rourke said. 
"When I reached out to Mines, originally the idea was that I wanted to present an approach to our community partner, Centura, to strategically rank 12 of their sites as potential locations for our next distribution point," O'Rourke said. "What I wanted to know was could we integrate the various selection criteria such as market capacity, farm locations and greatest need for food access to determine the optimal location for GoFarm mission expansion."
Mines students populated the tool with data on population density, income, land availability and existing food retailers.
"You put all the data on the map and then you rank each site based on how well they line up with the criteria were looking for," said Natalie Haber, a member of the original EPICS II team and a junior in civil engineering.
Haber has continued to work with GoFarm on the GIS tool and said while she definitely likes food, she had never thought about food access and food justice before working on the project.
"I think it's interesting," Haber said. "I really like using GIS for an analysis tool. I'm pretty visual so it helps me understand what's going on."
For GoFarm, the tool worked even better than expected, O'Rourke said, and they're already using it to plan future expansions.  
"It really solidified our partnership with Centura and it allowed us to expand in a strategic way," O'Rourke said. "Centura was able to use the data with their executive team to justify all of the costs associated with our partnership and it helped us establish the business plan to the U.S. Department of Agriculture – we got $500,000 to do the expansion because we had a tool to base our business plan on. That's huge." 
Jefferson County Public Health is also working in collaboration with GoFarm, Haber and Five Points Geoplanning to enhance the original tool so it can be used by JCPH community partners countywide, said Marion Kalb, food systems coordinator at Jefferson County Public Health.
"This tool is one example of how JCPH is collaborating with our community partners to advance health in the county," Kalb said. "It will enable community organizations to make strategic decisions about built environment and food insecurity issues."
CONTACT
Emilie Rusch, Public Information Specialist, Communications and Marketing | 303-273-3361 | erusch@mines.edu
Mark Ramirez, Managing Editor, Communications and Marketing | 303-273-3088 | ramirez@mines.edu