Spring 2022 semester gets underway at Colorado School of Mines
COVID-19 health, safety protocols remain in place, including vaccination requirement, face masks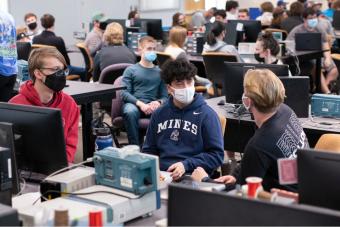 Colorado School of Mines welcomed students back to campus Tuesday for the start of the Spring 2022 semester. 
Spring classes are beginning as scheduled – in person and on campus – with COVID-19 health and safety protocols in place.  
Among the Spring 2022 highlights:
Spring Career Day will be held over two days this semester, with a virtual Career Day on Jan. 26 and an in-person Career Day on Feb. 1. Hundreds of employers are expected to participate. 

Engineering Days, or E-Days, is set for April 22-24. The Mines Activities Council is already busy planning this year's festivities, including the traditional cardboard boat races, concerts, fireworks and more. 
Construction will continue on the Labriola Innovation Hub, near 13th and Maple streets. Once completed by January 2023, the 37,000-square-foot building will be the state-of-the-art centerpiece of the new Mines Entrepreneurship and Innovation Ecosystem. 

Construction is also expected to begin this spring on the Beck Venture Center, as well as a major expansion to solar power capabilities on campus. The 33,000-square-foot Venture Center will exponentially increase the scope of support for launching new businesses and ideas through Mines. 
Health and safety measures remain in place
All Mines community members are required to wear face masks while inside campus buildings, regardless of vaccination status. Free COVID-19 testing is available on campus and contingency plans are also in place to allow limited remote instruction in case of illness. 
Mines was able to complete the Fall 2021 semester with no interruptions to in-person living, learning and research. Two in-person commencement ceremonies, one for undergraduates and one for graduates, capped the semester in December.  
For the spring semester, Mines' vaccination requirement remains in place, with all new students and employees required to come into compliance with the policy. The vaccination rate on campus currently sits at 90 percent among students and 87 percent for faculty and staff.