Spotlight on Mines: University featured on 'The College Tour'
Colorado School of Mines shines in season four of the TV series available on Amazon Prime Video in April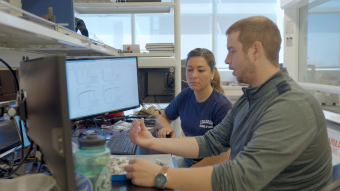 Colorado School of Mines is featured in the fourth season of The College Tour, a TV series available to stream on Amazon Prime Video that gives an in-depth, insider look at colleges and universities around the world.
Hosted by Alex Boylan, the fourth season debuts on Amazon Prime Video in late April 2022, along with episodes on the University of Texas at Austin, University of Oregon and Tulane University. The College Tour channel also is available on Roku, Apple TV+, LG Smart TV, Samsung Smart TV, Sony, Philips Smart TV, Amazon Fire TV and Android TV.
"Colorado School of Mines is a world-class institution with amazing students and faculty, and we want more people to be aware of the innovative and groundbreaking work being done here," said Lori Kester, associate provost of enrollment management at Mines. "Being featured on The College Tour means a larger audience will find out just how special we are."
Mines will debut the episode on Thursday, March 10, at 6 p.m. at a behind-the-scenes Q&A event with students featured in the episode. They'll share their experience in a Zoom Town Hall format with virtual attendees. The event will stream on the Mines YouTube channel: https://www.youtube.com/c/ColoSchoolofMines
The Mines episode highlights some of the university's unique characteristics and exceptional people. Key Mines experiences are featured, including entrepreneurship and innovation, the vibrant community of international students and supportive atmosphere for student-athletes. Actual Mines students and faculty appear throughout the episode, sharing their personal stories of life at Mines, both in and out of the classroom.
Maryam Alahmar, a PhD student in civil engineering, is one of the many Mines students in the episode. She shared why Mines was her top choice for graduate school: The university is home to the only underground construction and tunneling engineering graduate program in North America.
But the reason she agreed to appear in the episode stemmed from her desire to show prospective women students that being part of the community at Mines is way beyond just being another face in the crowd.
"Despite the fact that the number of women entering STEM fields is growing, women still doubt their ability to be a game changer in their chosen field," Alahmar said. "Mines is a place where women can be part of finding solutions for grand challenges facing society now, and they can receive all the knowledge, resources and mentoring they need. At Mines, you will be successful no matter what you do."
Eric Wilson '94, MS '02, a PhD student in space resources, also appears in the episode. Once he completes his PhD, Wilson will hold three degrees from Mines. As someone who's been a
student, worked in the real world and then came back to Mines, Wilson knows well the value of a Mines degree and shared that sentiment in his segment.
"Having been through Mines a couple times already, I know the positive impacts these degrees have made on my life," Wilson said. "Being able to share that message with the world through The College Tour was something I was excited to do. I hope any aspiring engineers who see the show take up the challenge of being in the next generation of Orediggers."
Being a member of the Mines community meant that, of course, Wilson viewed The College Tour experience through the lens of an engineer and hopes future Mines students watching the episode get a good sense of what the university is all about.
"I found the whole experience to be very similar to engineering projects—each person had expertise and a role that comes together to make something better than any one person could on their own," Wilson said. "Mines creates industry professionals that out-perform peers. I've seen this firsthand, and I hope the episode conveys that message to viewers."
The Mines episode of The College Tour is available to stream on Mines' website now before it drops on Amazon Prime Video next month. Watch at mines.edu/the-college-tour.