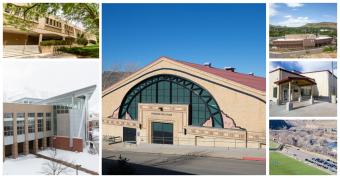 Colorado School of Mines researchers are world-renowned for their work to advance photovoltaic materials and solar power systems.  
And starting this spring, a multimillion-dollar campus improvement project will more than quadruple the number of solar installations powering buildings on the Mines campus, dramatically increasing Mines' solar power output.  
By the time the campus solar project is done at the end of 2022, six new rooftop solar arrays will have been installed on buildings around campus, as well as new solar parking canopies in Lot K in the Clear Creek Athletics Complex. The project also includes a number of solar picnic tables, with charging capabilities powered by solar umbrellas, in high-traffic areas throughout campus.  
"Peak electric demand on campus is between 7.5 and 8 megawatts, and this project is going to install 1.5 megawatts of solar power," said Mike Bowker, director of the Office of Design and Construction. "That's a pretty good chunk of the peak demand on campus, and that takes a lot of square footage on campus for solar panels." 
Here are more details about the upcoming campus solar project:
2            Current number of solar installations on campus
               (Parking Garage and 1750 Jackson residence hall) 
0.1         Megawatts of solar power now being generated on campus 
7            New locations on campus where solar panels will be installed. They are:
Green Center  

Student Recreation Center 

Korell Athletic Center 

General Research Laboratory-Annex  

Maintenance Shop 2 (in Mines Park) 

Parking Lot K (solar canopies) 

Steinhauer Fieldhouse 
1.5         Megawatts of solar power to be generated by the new installations 
$4.8M   Total cost of campus solar project