Site preparation underway for USGS energy and minerals research facility 
When complete in 2026, the 190,000-square-foot building will house 250 USGS researchers, 68 Mines researchers, 150 students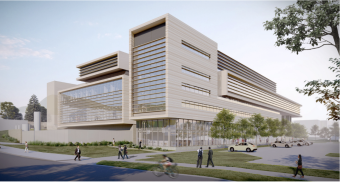 Construction will begin next month on the $240 million Energy and Minerals Research Facility that will jointly house researchers from the U.S. Geological Survey and Colorado School of Mines. 
Site preparation is already underway on the Mines campus, along 18th Street directly east of the USGS Geologic Hazards Science Center, in advance of an official groundbreaking ceremony this fall.   
The 190,000-square-foot building will be occupied by about 250 USGS researchers, 68 Mines researchers and 150 Mines students working side by side, with the intent to expand upon the two institutions' long-standing partnership and history of collaborative research. 
Funding for the building comes from the 2021 Bipartisan Infrastructure Act. U.S. Secretary of the Interior Deb Haaland visited Mines in February 2022 to announce the decision to locate the facility on campus.  
"Mines is excited to move forward with the construction of the Energy and Minerals Research Facility on our campus," said Kirsten Volpi, executive vice president and chief operating officer of Mines. "Together with USGS, we have a one-of-a-kind opportunity to create, nurture and support a thriving intellectual hub that can fundamentally transform the applied geosciences. Once complete, this collaborative facility will be one of the world's top geoscience research centers in terms of combined capabilities, expertise and analytical facilities – and it will be housed right here on the Mines campus, where our students can contribute to the latest in critical mineral and energy research."  
Construction on the Energy and Minerals Research Facility is expected to be completed in Fall 2026.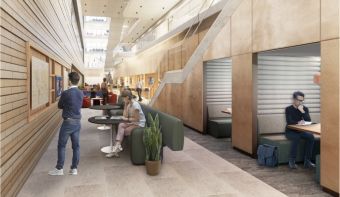 Designed by global architecture firm Perkins + Will, the building will be open to all members of the Mines community, home to a classroom, café and collaboration spaces, as well as laboratories, faculty offices and spaces for Mines graduate students.  
On the USGS side, the federal agency will be moving its Geology, Geophysics and Geochemistry Science Center and Central Energy Resources Science Center into the building from their current location in the Denver Federal Center. A connection between the new facility and the existing USGS Geologic Hazards Science Center – home to the National Earthquake Information Center – has also been included. 
Construction fences have already gone up around portions of the CTLM Lot along 18th Street, with the fenced-off area set to grow as site preparation and utility work proceed. During building construction, the Cheyenne pedestrian walkway will be closed between 18th Street to CTLM, as will the staircase from CTLM up to Alderson Hall.