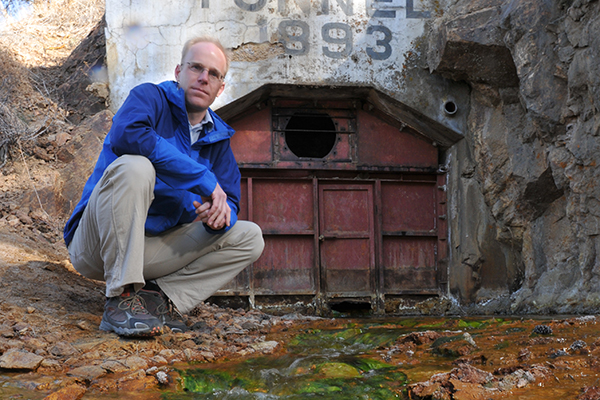 An associate professor of civil and environmental engineering at Colorado School of Mines has been invited to participate in a National Academy of Science symposium designed to encourage collaboration between distinguished young scientists.
Jonathan Sharp will participate in the U.S. Kavli Frontiers of Science symposium, which takes place Feb. 15-17, 2018, in Irvine, California.
Selected by a committee of Academy members, attendees are young researchers who have already made recognized contributions to science, including recipients of major national fellowships and awards and who have been identified as future leaders in science.
The symposium series was established in 1989, and more than 200 of its "alumni" have been elected to the National Academy of Sciences. Twelve have been awarded Nobel Prizes.
The 2018 symposium includes eight sessions featuring formal presentations of cutting-edge research:
• 3D Genome
• Bio-interfaces – Blurring the Borders between Biological and Digital Computing
• Brain-Machine Interfaces
• Green Chemistry
• Humans and Pathogens in an Evolutionary Context
• Materials by Design
• Ocean Anoxia
• The Search for Life Near and Far
The meeting also includes time for informal discussions and poster sessions.
Sharp joined Mines in 2009 and holds a bachelor's degree from Princeton University and master's and doctoral degrees in civil and environmental engineering from the University of California, Berkeley. His research integrates facets of microbiology, engineering, geochemistry and hydrology to enhance understanding of the natural and built environment, particularly on the impact of biological processes on water quality.
In 2011, Sharp received an NSF CAREER Award for a project titled "Cleaner Water Through Microbial Stress: An Integrated Research and Education Plan."
CONTACT
Mark Ramirez, Managing Editor, Communications and Marketing | 303-273-3088 | 
ramirez@mines.edu
Emilie Rusch, Public Information Specialist, Communications and Marketing | 303-273-3361 | 
erusch@mines.edu