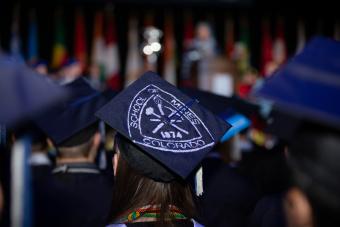 Colorado School of Mines will celebrate its Fall 2019 Commencement in two ceremonies on Friday, Dec. 13.
The undergraduate ceremony will start at 9 a.m. in Lockridge Arena, with the graduate ceremony to follow at 2 p.m. in the same location.
Tickets are only required for the undergraduate ceremony. Can't attend in person? Both ceremonies will be streamed live at youtube.com/ColoSchoolofMines.
Giving the keynote address at the undergraduate ceremony will be Timothy Haddon '70, president and CEO of International Natural Resource Management Co.
A member of the Mines Board of Trustees, Haddon graduated from Mines with a bachelor's degree in mining engineering and is a seasoned mining engineer with more than 45 years of international mining and business experience.
Haddon spent 23 years working for Texasgulf and Amax Inc., with responsibilities in Africa, Australia, Southeast Asia and North and South America. He was the chief executive officer of Amax Gold Inc. from 1989 to 1993, co-founder of First Dynasty Mines in 1994 and president and chief executive officer of Archangel Diamond Corporation from 1997 to 2002. He also served as chairman of Anatolia Minerals Development Limited from 1998 until it merged with Avoca Resources in 2011, and became chairman of Alacer Gold Corp., the successor company. He was the lead director and then chairman of Thompson Creek Metals Company from 2007 until 2016. Haddon also has been chairman of audit, compensation and corporate governance committees and sat on health, safety and environment committees of public companies.
Also speaking at the undergraduate ceremony will be Parker Bolstad, BS in environmental engineering.
David Lane Boyd, PhD in geological engineering, will give the student address at the graduate ceremony.                                                           
For more information about this week's ceremonies, go to commencement.mines.edu.