Q&A: Mines' first director of federal relations a bridge between university, federal government
Andrew Lattanner joined Mines in 2023 after more than a decade working in the U.S. Congress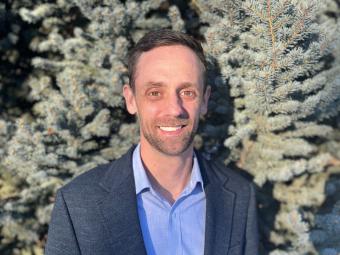 By Emilie Rusch, Special to Mines Magazine
Ensuring Mines is a top-of-mind and first-choice partner for federal labs, funding agencies and policymakers is a big job.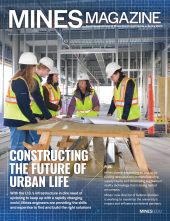 In fiscal year 2022, federal funding, including funding from national labs, accounted for more than $85 million—more than 80 percent of total funding—to support the Mines research enterprise.
But securing research funding is just one piece of the pie when it comes to Mines' relationship with the federal government.
As Mines' first director of federal relations, Andrew Lattanner is responsible for advancing awareness of the university's world-leading research and supporting productive relationships with the U.S. government and federal agencies.
"I see my role as a bridge," Lattanner said, "connecting the Mines community and the federal government to inform policies and strategies that solve problems and to maximize the impact of our research, education and leadership."
Lattanner, who joined Mines in January 2023, brings to his new role more than a decade of experience working in the U.S. Congress. His time in Washington, D.C. included six years as legislative director and deputy chief of staff for then-U.S. Sen. Joe Donnelly of Indiana, as well as two years as chief of staff to then-Congresswoman Kathy Hochul of New York. Most recently, he served as director of the Oregon Manufacturing Innovation Center Training Center, a public-private advanced manufacturing training initiative designed to bring together post-secondary education, workforce systems and industry partnerships to deliver quality, industry-aligned manufacturing training.
Here, he answers a few questions about the new role and why Mines is primed to remain a strong partner to the federal government.
Why does Mines need a director of federal relations?
Andrew Lattanner: Mines' reputation is built on its students, alumni, faculty and research, but it's strengthened by its partnerships with industry, academia and government—and the collective impact the university has on communities across the world.
Good federal relations is about translating science and research into impact by helping policymakers solve complex problems and advocating for continued investment in Mines innovation, exploration and science.
Our federal partners increasingly view Mines as a go-to community of problem solvers. My job is to continue to support our federal relationships and to maximize the university's impact.
What do you see as Mines' role in leading the future of STEM research?
Lattanner: Mines' leadership in the future of STEM research is rooted in its nearly 150-year tradition of training the world's best engineers and scientists. Today that means preparing students to respond to a rapidly changing innovation economy and the complex social, economic and environmental challenges that shape the day. 
From a federal perspective, it's important that Mines research continues to align with national priorities—to lead the energy transition and address climate change, promote national security and technological competitiveness, and innovate for equity. It's also critical that Mines research continue to lead the way in emerging areas, such as new manufacturing processes, space exploration and quantum computing.
How do you plan to advance Mines' relationships with government agencies and policymakers?
Lattanner: Relationships with the federal government can take many forms. It can be collaboration, like the soon-to-be-built U.S. Geological Survey/Mines energy and minerals research facility or joint research and educational programming with the U.S. Department of Energy's National Renewable Energy Laboratory. It can be congressional testimony on clean water or responding to a lawmaker looking for advice on how to craft a policy to maximize effective community engagement for energy projects. 
Whatever form that relationship takes, it's important that our federal partners know that Mines is a community of problem solvers with a record of providing unbiased, solution-oriented expertise. 
How can Mines continue to be a go-to institution for solving today's biggest technical and social challenges? 
Lattanner: Ultimately, Mines will continue to be a go-to institution because of its multi-disciplinary expertise and the impact its students and faculty have on the complex science and technology challenges of the day. That impact can be strengthened by strong federal relations, and I'm excited to be a member of the Mines team to support Mines research and grow its impact.