Powering the Moon: Mines space resources students selected for NASA lunar project
Team working on how to generate, store and transmit electricity for future missions on the moon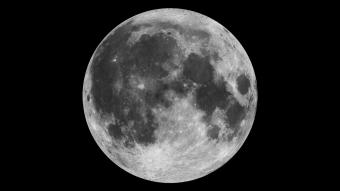 Students from Colorado School of Mines' Space Resources graduate program have been working on a tangible solution to a modern problem: how do you power lunar missions?
Current students Ken Liang and Chris Tolton, with help from Mines alum Kostas Papangelis, who recently graduated with his master's degree in space resources, have teamed up to figure out an energy transmission and storage system for lunar missions. Their proposal, under the name Team Orbital Mining Corporation (OMC) was submitted to NASA's Watts on the Moon challenge, a competition seeking solutions for energy distribution, management and storage for space flight and future operations on the lunar surface back in June.
Over 30 teams submitted proposals for Watts on the Moon's initial call for entries. The Mines team is one of seven that were selected to move on the second level of the competition.
"We want to mine the Moon, but before you do that you need lots of power, Liang said. "Mining is very energy intensive. If we can produce rocket propellant on the Moon it will be about 10x easier from an energy perspective to send it to low Earth orbit from the Moon than the other way around."
For Liang, who enrolled at Mines to change gears and start a career in the space industry, being involved in the project happened by chance. In the Innov8x entrepreneurship class, he was working on a project related to solar power. Tolton, meanwhile in the same class, created Luna Power, which proposed a lunar DC microgrid to kickstart mining on the Moon. Liang found Tolton's idea promising, so when the solar power project fizzled out, he connected with Tolton and they ended up working together on advancing the lunar start up further.
Amazingly, the team has worked on this project without ever physically being in the same room—Liang lives in Chicago while Tolton resides in Colombia. Both are fully online students in the Space Resources graduate program. And they regularly discuss ideas with Papangelis, who works as a mining engineer in Greece.
"For people who are interested in doing a start-up, Mines is the place to be," Tolton said. "The university is laser-focused on that." "I was initially apprehensive about an intensive and technical online course from overseas, but it's manageable," he added.
As part of making the second stage of the competition, the Mines team received $200,000 to work on their idea. They will find out next year if they advance to the third and final stage following a NASA visit next spring. If they make that cut, they'll be awarded additional funding of $400,000.
The simplest way to explain their design – without giving too many details away – is that they're adapting a DC to DC converter to survive the lunar night. Once they figure that out, Tolton believes they'll be able to create most of the hardware for a lunar DC microgrid. Their long term goals are to: build the first power power plant on the Moon; prospect for volatiles (water); and then produce rocket propellant.
Providing and storing electricity on the Moon is no easy task. The team explained some of the big reasons why:
Temperatures are extreme. The Moon's surface gets very cold and very hot over the span of a 28-day cycle.
There's radiation to contend with, without the protections we have on Earth. This affects how electronic equipment functions.
Lunar dust is incredibly angular and abrasive. It can easily damage tools and instruments.
It's a vacuum. There's no "air" on the Moon or in space.
Their system is getting help from an unlikely place. Zekalabs, a power conversion company based in Bulgaria, hosted the students twice in Sofia to arrange for a donation of some equipment for their project and to discuss how to adapt their hardware for the lunar environment.
Being finalists in Watts on the Moon is the team's first step to realizing their ultimate goal: Getting into space.
You can read more about their project at: www.orbitalminecorp.com