Paige Granie: "I chose Mines because I recognized the value of a Mines degree."
Castle Rock, Colorado
Electrical Engineering Student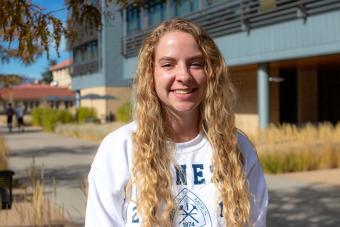 Why did you choose to come to Mines? What have you enjoyed most about being here?
I choose to come to Mines because I recognized the value of a Mines degree. Also, I have always loved math and I wanted to continue on a mathematics path. My major was undecided when I came to Mines, but I knew that anything that I did here would be math-heavy, and hopefully something I would enjoy.
Tell us about something you're working on right now that you find exciting, fulfilling or challenging?
I have the privilege of working with Dr. Wakin as a MURF recipient this year. I currently work on inspiring K-12 students to pursue STEM education and become interested in STEM careers. To do this I work with local schools and organizations to get in the classroom and present lessons to students. I also work to create a curriculum for teachers to implement in their own classrooms. I'm really proud of my involvement and contributions to this project; STEM education is really important, and helping kids discover the STEM field is not only a lot of fun but also necessary for our future.
Have you done an internship or co-op or been in a professional job while at Mines? Tell us who you worked for and what you were doing. What stands out?
I've had two really amazing internships. In the summer of 2018, I worked as a commercial crew intern for United Launch Alliance, a joint venture between Lockheed Martin and Boeing, an impressive aerospace company. I learned so much from my time at ULA and even flew to Cape Canaveral, FL to see the Parker Solar Probe launch. In the summer of 2019, I had a very different experience. I was a patent engineering intern for Holland & Hart, LLP. Interning at a law firm is very different than interning for an aerospace company. This experience gave me an inside look into the world of patent law, and the sort of career that I could have at a law firm. This experience was incredible, I learned so much and I was learning about cutting edge, new technology. It was fascinating and solidified my desire to go to law school.
What communities, groups or organizations—on- and off-campus—are important to you and why?
I am the president of my sorority, Pi Beta Phi, and it is so incredibly important to me. Pi Phi has connected me to an incredible, diverse group of young women who are driven, and so supportive of one another. My sorority has supplied me with relationships and experiences that I will never forget, and I will always value. I am also in Blue Key, which I think is significant because of the impact on campus. Blue Key really strives to not only maintain campus traditions but also to improve campus and community morale, something I personally believe needs to change at Mines. I'm on the Mines Cheerleading Team, which is a really fun and active way to get out of my head and unwind during my busy and rigorous weeks. It's a lot of fun to cheer at football and basketball games, and I have so much fun with the girls on the team. I am a part of the McBride Honors Program, which is valuable to me because it helps develop my communication, writing and reading comprehension skills. This will help me with law school admissions.
What are your plans for the future? What's your dream job?
I am going to law school, and I want to become an intellectual property (patent) attorney.
What would you tell someone interested in joining your academic program or Mines in general?
I think the Electrical Engineering Department at Mines is amazing. It's a lot of work, but it is certainly manageable, and it is worth the knowledge and skills that you will gain. I am doing things now that I never would have dreamed I would ever be able to do while I was in high school. As a more general message to anyone interested in Mines, I would tell them to be prepared to learn, from scratch, how to be a student here. Mines was not what I expected, and there is a learning curve. You are going to have times that you feel that you have failed, but they are not failures, they are merely setbacks and a message that you should consider your current path more carefully. Finally, I would say that you are intelligent; you were accepted into this school because of your intelligence and aptitude. Do not compare yourself to your peers. Your learning style and your abilities are not going to be the same as the people around you, and that's ok. It does not mean that your intelligence is lesser than. Everyone learns in different ways, and you are here because you are meant to be, and you have the ability to succeed.
What's your favorite thing to do outside of class and coursework? How do you unwind, manage stress, find fulfillment, etc.?
First and foremost, I love to drink tea. My favorite stress reliever is to curl up in a comfortable chair with a warm cup of tea, and "turn off" my brain for a few minutes. I also like to read for fun. Something that is not related to school at all. I also like to stay involved in my clubs and orgs, getting away from schoolwork with other mines students is important. Finally, I like to exercise. I feel like my brain works better after a good workout, and getting moving makes me feel more comfortable.