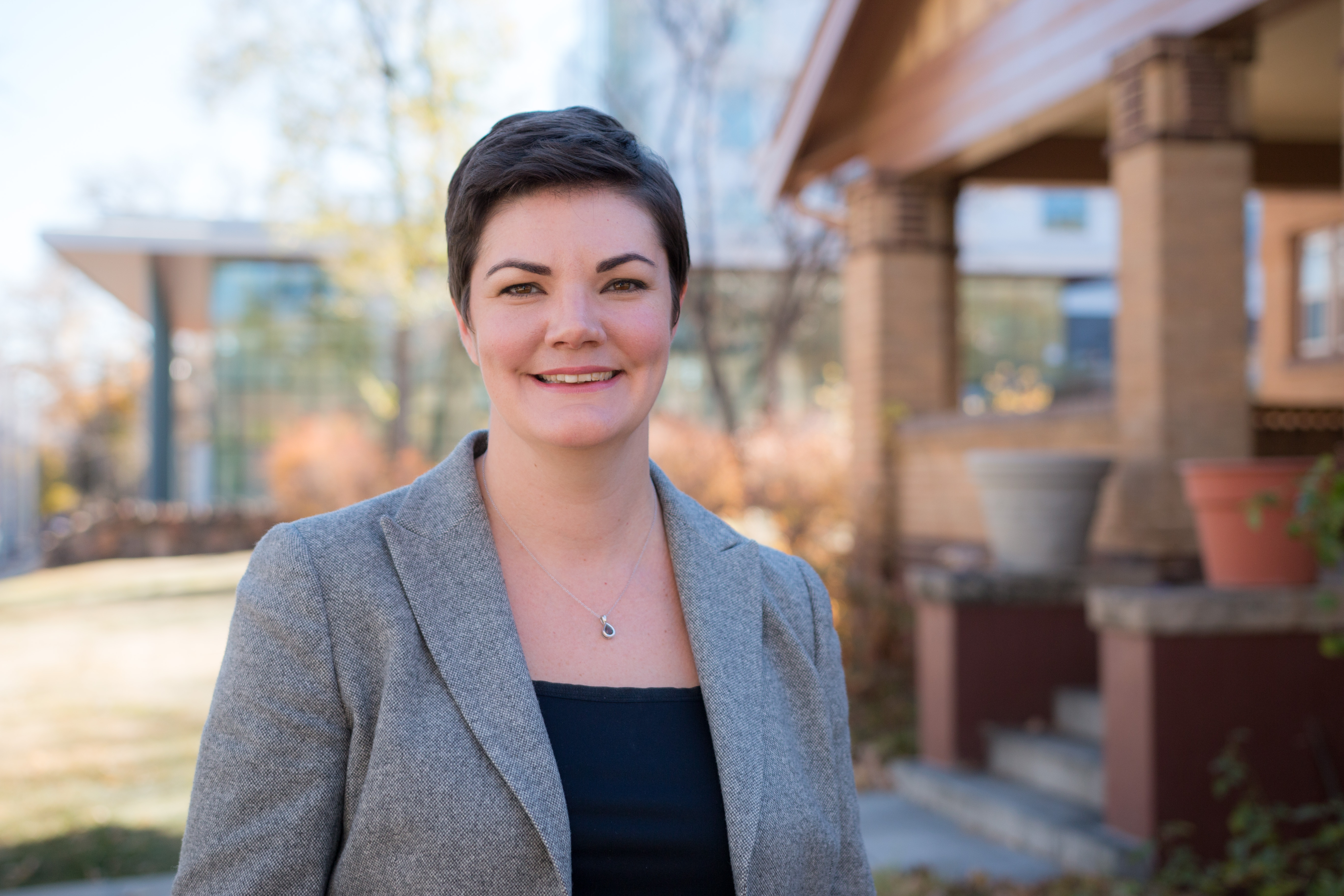 Colorado School of Mines will soon be home to a state-of-the-art instrument for the chemical analysis of materials at very small scales and concentrations, with particular application to materials that are sensitive to air.  
Corinne Packard, associate professor of metallurgical and materials engineering, has been awarded $900,000 through the National Science Foundation's Major Research Instrumentation Program to purchase and operate a time-of-flight secondary ion mass spectrometer (TOF-SIMS) for use by academic, government and industry researchers throughout the region. 
The TOF-SIMS, which should be installed by next fall, will be located in the International Center for Multiscale Characterization within the new CoorsTek Center for Applied Science and Engineering, where it will complement a suite of tools for the chemical and structural characterization of materials from the atomic to centimeter scales. 
"The combined capabilities of this instrument make it unique -- especially because it is going to be operated as an open user facility," Packard said. "People from other universities and from companies can come to campus or send samples for analysis. The capabilities that we will have go beyond what basic TOF-SIMS offers."
Those capabilities include a transfer vessel for transporting air- or moisture-sensitive samples from where they are made to the instrument, an in-situ focused ion beam (FIB) for depth profiling selected areas of the sample and an extended dynamic range analyzer to cover a wider range of materials. Among the institutions and businesses that have already expressed interest in using the Mines TOF-SIMS are Colorado State University, University of Colorado Boulder, U.S. Air Force Academy, National Renewable Energy Laboratory, CoorsTek and steel company ArcelorMittal.
"We're not the first ones to have any of these techniques, but we're the first ones that are going to have all of these techniques in one place that's open for use by other people," Packard said. "It's very rare for universities to have this kind of instrument."
The knowledge gained through the TOF-SIMS will have applications in solar and fuel cell technology, batteries, mineral recovery, manufacturing, drug delivery and more, Packard said. 
The instrument can detect and map trace concentrations of elements and isotopes – typically parts per billion – in solid materials without the rigid sample preparation requirements of other techniques. 
"Other techniques that can be used for spatial mapping of chemical species often require you to make your sample in a very specific geometry. You're only looking at a really tiny piece of material that has undergone a lot of handling," she said. "With TOF-SIMS, we can just take a piece of material, stick it in the instrument and start our work immediately in its present form."
The TOF-SIMS' transfer vessel and in-situ FIB will also allow for the analysis of environmentally sensitive samples, such as batteries and metals prone to oxidation.  With the transfer vessel, researchers will be able to prepare their samples and transfer them to the instrument without exposure to the environment. Having a FIB in the instrument will allow those same air-sensitive samples to be cut or serially sectioned prior to analysis. The FIB will also allow researchers to cut into a selected part of the sample and analyze that area only.
"Say we've got a little battery material. If we just put that into the instrument, what we'll be looking at is the surface. With this FIB, we can cut the sample open inside the instrument and look at what's inside," Packard said. "We have a FIB on campus, but if you use a separate FIB to cut a hole or make a crater and then you pull it out, now it's exposed to air. Having the FIB inside the instrument means we can work with samples that are environmentally sensitive."
The extended dynamic range analyzer will allow researchers to look at samples where some elements are present in minute quantities and others are very common. 
"Sometimes you have a material where you have a lot of one thing and a tiny bit of another. Normally in SIMS when a lot of one type of ions come off the sample, that's going to saturate the detector and then it can't see the rare elements present in small areas or small amounts. What the extended dynamic range detector allows us to do is look at things in very small and very large concentrations at the same time," she said. 
The goal of NSF's MRI Program is to increase access to scientific and engineering instruments for research and research training at universities, not-for-profit museums, science centers and engineering research organizations. Special emphasis is put on shared instrumentation that can be used by both the grantee institution and other researchers regionally and nationally. 
CONTACT
Emilie Rusch, Public Information Specialist, Communications and Marketing | 303-273-3361 | erusch@mines.edu
Mark Ramirez, Managing Editor, Communications and Marketing | 303-273-3088 | ramirez@mines.edu