Oil and gas engineers are the key to the energy transition
After 100 years of petroleum engineering education, Colorado School of Mines knows what's needed to lead the future of the energy industry.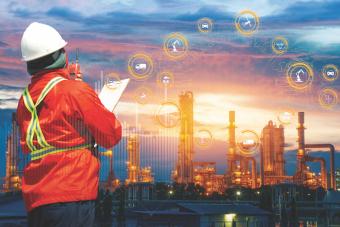 By Jen A. Miller, Special to Mines Magazine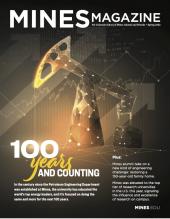 ​In 1921, the first Miss America was crowned in Atlantic City, bread cost a nickel a pound and Warren G. Harding became the first U.S. president to arrive at his inauguration in an automobile—following the country's first presidential election in which women could vote. In the fall of that same year, Mines also enrolled 498 students in its brand new petroleum engineering program. The first cohort graduated the following spring.
For the past 100 years, Mines has been graduating the world's top petroleum engineers and been at the forefront of educating generations of energy leaders. Mines' petroleum engineering undergraduate degree was one of the first in the U.S. and has been accredited by the Engineer's Council for Professional Development since 1937. It has also ranked as one of the best such programs in the country since 1942.
Not only has Mines' petroleum engineering program been educating the men and women who have shaped the energy industry for 100 years, but it has also encouraged thought leadership and research. Mines students, alumni and faculty fostered breakthrough advancements in the oil and natural gas industries, including the development of foam cementing, which was a major leap forward in well drilling technology in the 1960s; and pioneering the application of lasers to drill and perforate wells in the 1990s. Several research and commercial software packages have started as research projects at Mines, and the first student chapter of the American Association for Drilling Engineers formed at Mines in 1996.
However, that doesn't mean Mines is resting on its laurels, especially at the 100-year mark. "We think a lot about how, if we're 100 years old today, what are we going to do in the next 100 years," said Jennifer Miskimins MS '00, PhD '02, the current head of the Petroleum Engineering Department.
And that's exactly what the Petroleum Engineering Department is focusing on as it continues to prepare future generations to work and innovate in an ever-evolving global energy landscape.
Petroleum engineers are still in demand—and important as ever
Leading into the department's milestone, Miskimins helmed a group of experts—including Mines alumni—to develop a 20-year vision plan for the program. The plan had to account for how the world is changing, especially in how it accesses and uses energy.
According to the U.S. Energy Information Administration, fossil fuels made up 60 percent of energy resources in the U.S. in 2020. Those percentages are expected to shift as the demand and deployment for renewable energy rises, along with global investment in different kinds of energy sources and technologies.
That doesn't mean the world will stop using fossil fuels though—the EIA also projects that internationally, energy needs will grow by nearly 50 percent by 2050. So even though energy source growth will be largely driven by renewables, fossil fuel demands will increase, and petroleum engineers will continue to be in demand.
"We're graduating petroleum engineers, but the difference is that they're petroleum engineers who can function in a net-zero carbon world," said Miskimins.
Students are graduating from Mines equipped with skills appealing to oil and gas companies, she said, but also with the right knowledge to lead efforts on carbon capture, utilization and storage, which is important for capturing and storing atmospheric carbon dioxide, and how and where to tap into renewable geothermal energy sources. Students are also working on methane emissions capture, blue hydrogen (which is hydrogen produced from natural gas) and helium production, technologies that have only been developing in the last few decades, Miskimins said.
"The school has a tradition of applied science versus pure science, and it's interdisciplinary—whether it's in working with geology or other aspects of engineering," said Mark Sonnenfeld MS '91, PhD '96, chief geologist at Coterra Energy. "Mines gives people more flexibility down the road as career paths evolve, especially in energy areas that require working with what's under the ground."
Today, about 95 percent of Mines' petroleum engineering graduates work for oil and gas operations. Miskimins anticipates that percentage to be between 70 and 75 percent in 20 years. But that's just because there will be more available avenues petroleum engineering graduates can take with their degrees.
"There won't be a huge difference in what our students know from a basic petroleum engineering point when they walk out the door, but they are going to have a broader set of skills and do different things," Miskimins said.
Gaining the skills to lead the energy future
While some universities are closing their petroleum engineering programs or rolling them into other degrees, Mines plans to stay the course, because the school believes it's the best way to educate students for key jobs in the oil and gas industry while also training them to be part of the larger and expanding overall energy picture.
"We make sure that our students not only have solid petroleum engineering skills but see those future needs and how they can contribute to those future solutions," Miskimins said.
Amanda Rebol '07, vice president of operations at Kimmeridge Energy, believes that Mines is perfectly poised to educate, inform and evolve the future of energy engineering. "A good education doesn't necessarily teach you a set of subject-matter skills. It teaches you how to learn," she said. "It teaches you how to problem solve. It teaches you how to identify what's in front of you and develop yourself to work around it or through it."
Mines' robust and dedicated alumni network also helps graduates explore what they can do with the abilities and skills they learned at Mines, she added, "whether that's in oil and gas or adjacent businesses. Together, we're able to figure out what's next for us as individuals but also how the industry has had to adapt over the years. Mines has helped us all stay ahead in the game and drive innovation and change."
Sonnenfeld has seen how skills learned at Mines can be put to work in different areas of energy production and give students more options than strictly petroleum engineering. He oversees a technical team for Coterra Energy's geoscientists and ensures that projects have both geological and engineering integration. It's a connection he first saw as a Mines graduate student, when he taught the geology portion of the Petroleum Engineering Department's field camp in northwestern Colorado and Utah.
Mines graduates are particularly prepared to work in subsurface renewable energies, he added. "I doubt a petroleum engineer is going to become a solar expert or a wind expert, but they will definitely have the necessary technological skills for geothermal, carbon sequestration or anything in the subsurface."
Barry Thomas '91 is in charge of career development for early engineers at ConocoPhillips and sees the difference that a petroleum engineering degree from Mines makes. "Mines graduates know how to get stuff done. They're given a task and they find a way to do it, whatever it takes. They hit the ground running," he said.
That's especially true when it comes to problem solving and finding new solutions to a tricky problem, such as how to recover more oil in the ground and from unconventional reservoirs. "Mines degrees are technical degrees. Because of this, critical thinking is just the air we breathe," he said.
He's also found that Mines students are encouraged to pursue interests outside of the classroom, which makes them more well-rounded job candidates and poised to grow into industry leaders. He himself came to Mines from Texas to get an engineering degree and play football. This focus on the development of the entire student, plus the size of the school, "gives Mines students leadership experience and teamwork experience at a level that they might not get at a bigger university."
These skills have become crucial, added Thomas, especially as reaching oil and gas trapped underground is becoming more challenging and more technical. Accessing those resources is important beyond just the energy industry. "Petroleum is in the clothes we wear, the phones we talk on. It's in the sanitization of our hospitals, the plastic tube in an IV," he explained. "The skills to unlock those resources are in demand now more than ever."
A year of celebration
Mines is celebrating the Petroleum Engineering Department's 100th anniversary in many ways this year. Events each month for students, alumni and industry supporters include open houses, alumni panels and seminars, an alumni weekend in Massadona, Colorado, and more. The department has also established a Petroleum Engineering Excellence Fund to support students earning a high-quality Mines education with cutting-edge lab equipment and hands-on learning opportunities.
"We want everyone involved in the history of the program to celebrate what we've achieved, whether they can be with us on campus or tap into one of our virtual events," said Miskimins.
These events will culminate in November 2022, when Mines will announce the first class of the Petroleum Engineering Department Hall of Fame to honor alumni who have made significant contributions to the oil and gas industry, including technical leaders, innovators and industry leadership.
See all the details and get involved in the celebrations at weare.mines.edu/PE100.
Want to know more about the history of the Petroleum Engineering Department at Mines? Visit petroleum.mines.edu/100 for a deeper dive into the department's history and details about all the ways we're celebrating this historic anniversary.