New University Innovation Fellows aim to improve student mental health, outlets for creativity on campus
UIF Faculty Champion Mirna Mattjik also named to inaugural cohort of Faculty Innovation Fellows Program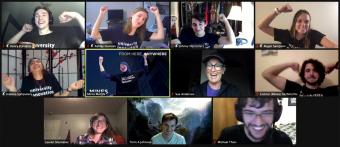 Colorado School of Mines' newest cohort of University Innovation Fellows has an ambitious agenda to promote positive change on campus – including plans to establish a dedicated creative space where students could unwind and collaborate on artistic endeavors.
Six Mines undergraduates are among the 198 students from 45 higher education institutions in 14 countries who were named University Innovation Fellows this fall. The UIF program, run by Stanford University's Hasso Plattner Institute of Design, aims to empower students to become agents of change at their schools.
Members of the Fall 2020 UIF cohort were honored Nov. 30 in a virtual pinning ceremony:
Ashley Dunivan, a junior in environmental engineering
Katherine King, a sophomore in environmental engineering
Regan Sampson, a junior in mechanical engineering
Indiana Sjahputera, a sophomore in mechanical engineering
Henry Jenkins, a senior in mechanical engineering
Johnny Desrosiers, a junior in mechanical engineering
Dunivan and Desrosiers are focusing on the creative space project to supplement Mines' existing workshop and maker spaces. Art supplies, board games, puzzles, instruments and maybe even a soundproof room for music rehearsal are among the ideas for the space.
"Our main goal is to find space on campus to implement this," Dunivan said during the pinning ceremony. "In the future, we're looking to get materials and supplies donated, or fundraising if needed."
Jenkins and King are spearheading an effort to host TED-style events on campus and are in the process of completing the required documentation to become a Mines-sanctioned student organization.
Sampson and Sjahputera, meanwhile, are both working on projects related to mental health on campus.
Sampson is collaborating with Mines UIF Faculty Champion Mirna Mattjik (EDS) and Dr. Cynthia Norrgran (CBE) to learn the process of developing a course regarding the neuroscience behind mental health, along with one's journey in interacting as a social being and discovering their whole narrative identity. 
"Mental health is a big issue on the Mines campus – education is the best way to combat that and help people," Sampson said. "Mental health affects me, it affects my friends, it affects people I care about. "
Likewise, Sjahputera is working on developing a series of career videos that could help relieve the stress that many students feel when it comes time to choose a major. A diverse group of Mines alumni would record "day-in-the-life" style videos about their industry, with the ultimate goal of sharing the videos as Canvas modules for all CSM 101 students.
Mattjik, teaching associate professor in the Engineering, Design, and Society Division, was also recently honored by the UIF program as one of just 20 educators from 16 higher education institutions from around the world to be selected for the inaugural Faculty Innovation Fellows Program.
In this new two-year program, faculty and staff will work to design unique projects that enhance the innovation ecosystems at their schools and help students gain vital real-world skills and mindsets. The cohort will also meet regularly to share strategies and support one another to make measurable progress on their projects.
Mattjik will focus her two-year fellowship on the development of a community of practice in authentic learning at Mines. Authentic learning, according to the Australian Council for Educational Leaders, is "learning designed to connect what students are taught in school to real-world issues, problems, and applications; learning experiences should mirror the complexities and ambiguities of real life."
"Mines@150 targets authentic and distinctive learning experiences for Mines students and this community of practice is a way to showcase and support capacity in entrepreneurial thinking, ideation, problem definition and innovative design in our community," Mattjik said. "Possible strategic intents of a community of practice, or CoP, are to help the community, define best practices, cultivate knowledge-stewarding and seed innovation."