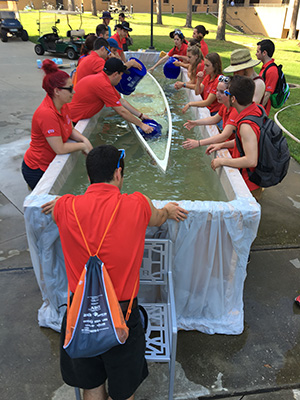 Do you want to help make building the most fuel-efficient vehicle possible? Support the Mines Triathlon Team? With the launch of the spring semester Gold Mine crowdfunding projects there are eight Mines student causes to get behind, no matter where your interests lie.
Colorado School of Mines' official crowdfunding platform is only in its second semester of operation, but has raised over $32,000 with 16 different teams taking advantage of this new fundraising opportunity so far.
Students and faculty members alike have been planning and working for months to get their ideas off the ground. Spring projects:
- Helping the newly-established Filmmakers at Mines Club purchase essential video and audio equipment to serve as a resource for campus.
- Designing and building an ultra-efficient, battery-powered vehicle to compete in the Shell-Eco Marathon in Detroit, MI.
- Covering registration costs to allow up to 40 students attend the Society of Petroleum Engineers Annual Technical Conference in San Antonio, TX.
- Building a footbridge for a remote community in Nicaragua to provide residents access to essential resources. Students will be working through the Mines Without Borders program.
- Furnishing the inside of the Mines Tiny House project to complete the build and prepare the team to compete in the 2019 Solar Decathlon.
- Subsidizing race fees for the athletes of the Mines Club Triathlon Team to allow them to compete in prominent races in the Rocky Mountain Collegiate Triathlon Conference.
- Hosting the National Concrete Canoe Competition for the American Society of Civil Engineers on the Mines campus.
- Building an off-road vehicle for the Society of Automotive Engineers Baja Competition.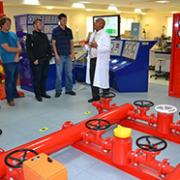 The majority of projects just launched within the last week. However, two teams are nearing the completion of their campaigns and are looking for a last-minute push through the finish line.
As the exclusive crowdfunding platform for Colorado School of Mines, project creators see many benefits over other crowdfunding platforms such as Kickstarter or GoFundMe. For one, all teams keep 100 percent of what they raise with no fees. Typical crowdfunding sites take anywhere from 6 to 8 percent of the total amount raised.
Additionally, all teams are provided with a dedicated success coach to offer training in best practices and marketing. With this assistance and the backing of the Mines brand, teams hit the ground running with strategies and a community to help them accomplish their goals.
To learn more about crowdfunding at Mines, support the currently active projects, or submit a project of your own, please visit giving.mines.edu/goldmine.
Contact: Brandon Farestad-Rittel bfarestadrittel@mines.edu or Rachelle Trujillo rtrujillo@mines.edu