Nearly 100% of recent Colorado School of Mines graduates had positive outcomes, with most settling in Colorado after earning their degree
New annual report from Mines Career Center points to positive outcomes for 95-99% of 2019-20 graduates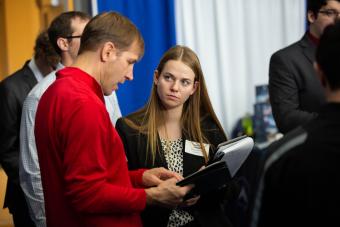 A new report released by the Mines Career Center shows that, despite the global pandemic, recent Mines graduates are thriving, entering a wide variety of industries, roles and graduate schools, and continuing to earn starting salaries that place them among the most highly paid of their peers nationally.
The 2019-20 Annual Report shows that 95 percent of students earning a bachelor's degree in 2019 or May 2020 are employed in industry or government roles, enlisted in the military or continuing their education. That figure is 96 percent for students earning a master's degree during that time, and 99 percent for PhD recipients.
Nearly half of those students entering the workforce are now employed in energy, aerospace or high tech industries. The remaining roughly 55 percent are working in civil engineering, manufacturing, consulting, government roles, or one of 19 other sectors. 
These students, the report says, "graduated into a labor market unlike any in recent history with a pandemic impacting course delivery and an unexpected, sudden shift in the economy. Despite these challenges, Mines graduates saw positive outcomes, similar to prior years—a testament to their enduring value as professionals and graduates."
"The excellent student outcomes we saw over the past year came as no surprise to the Career Center – we've always known our Mines students to be incredibly resilient in the face of challenges, and to say that 2019-2020 was a challenging year feels like an understatement," said Wendy Winter-Searcy, director of the Mines Career Center. "Nearly three-quarters of all Mines students were able to make use of Career Center resources, and that's so important to graduates' long-term success upon transitioning out of Mines. We are appreciative of the strong partnerships with employers that allow us to connect students to opportunities – even in the midst of a global pandemic."
The 48-page document contains student testimonials and page after page of career outcomes (including by program/major). It details which industries Orediggers entered and where they were accepted for graduate school. It also shows where graduates were headed in post-graduate life. Although Mines draws students from all 50 states and more than 80 countries, 61 percent of B.S. earners settled in Colorado. That number was 64 percent for master's degree earners and 51 percent for doctoral students.
<Related link: Mines is top ranked among peers for career return on investment>
The report also describes how the Career Center pivoted last year in response to the pandemic. Mines typically hosts one large Career Day event each fall and spring. During the 2019-2020 academic year, both Career Day events were held in person, with the Spring 2020 Career Day occurring just weeks before the pandemic shutdown.
With in-person events no longer possible starting in mid-March, the Career Center worked closely with employers and recruiters to quickly transition employer information sessions to a virtual format — a format that continued with the Fall 2020 and Spring 2021 Career Days. 
During the year, 77 percent of B.S. students completed internships, more than 1,200 organizations recruited or hired at Mines and more than 2,600 on-campus interviews were completed.
You can view the full report online at https://www.mines.edu/wp-content/uploads/2021/02/Career-Center-Annual-Report-2019-2020-DIGITAL.pdf.
For more information on the Career Center, visit https://www.mines.edu/careers/.