Colorado School of Mines top-ranked for 30-year ROI
Mines is No. 1 among its peer group of public and non-maritime four-year universities when looking out 30 and 40 years beyond graduation, according to Georgetown University study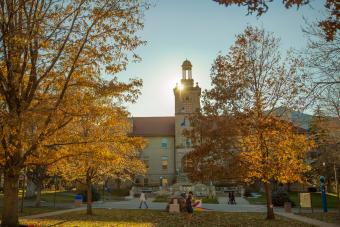 Colorado School of Mines is among the top universities in the U.S. for return on investment when looking at earnings over the course of their graduates' careers, according to a new study from the Georgetown University Center on Education and the Workforce.
Mines was ranked No. 19 overall among 4,500 two-year and four-year public and private institutions — the only non-maritime public university to crack the study's Top 20 when researchers looked at the return on investment 30 and 40 years out. The rankings also look at ROI after 10 and 20 years.
Mines was No. 1 among its peer group of public and non-maritime universities that offer bachelor's degrees when looking out 30 and 40 years beyond graduation.
"A First Try at ROI: Ranking 4,500 Colleges" used expanded College Scorecard data to calculate the net present value of a credential over time. 
Net present value estimates how much a future sum of money is valued today, in this case factoring in program costs, future earnings, and the length of time it would take to invest and earn a certain amount of money over a fixed horizon.
"Our faculty are preparing students to tackle the challenges of today and tomorrow throughout their careers — not just in their first role," said Mines President Paul C. Johnson. "This report and others reinforce the value of a Mines degree, especially when looking over the lifetime of our graduates' careers. Mines graduates are prepared to succeed and be leaders in this rapidly changing and technology-driven world and we see alumni having long and important careers, with enduring impact on their industries, businesses and communities. That's a legacy we all are proud to be a part of."