National champs! Mines wins NCAA Division II Men's Cross Country Championship
Dillon Powell leads the way, becoming the first runner in program history to win individual gold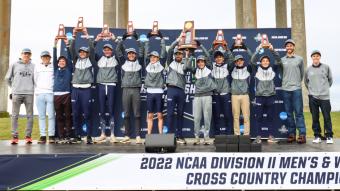 Dillon Powell's individual title set the pace for Colorado School of Mines history on Dec. 2 as the Oredigger men won their third NCAA Division II Men's Cross Country national championship since 2015, and Mines' women finished third in the nation.

The Oredigger men dominated their race, posting the largest margin of victory in meet history with a 143-point edge over national runner-up Wingate. Powell's performance anchored a Mines team score of 43 points as he became the first runner in program history to win individual gold. The Oredigger women scored 164 points and matched their best finish in program history at No. 3 with a third consecutive podium appearance. They were led by 12th-place finisher Molly Maksin.
 
For the first time in program history, all seven of Mines' men earned USTFCCCA All-American status by virtue of top-40 finishes. It was Powell, Duncan Fuehne, Loic Scomparin, Luke Julian, Chris Cathcart, Paul Knight, and Steven Goldy donning the medals at the awards ceremony. On the women's side, Maksin, Zoe Baker and Grace Strongman gave the Orediggers three USTFCCCA All-Americans, which matched the program's record for most all-Americans in a season.
Read more about the men's and women's races at minesathletics.com.