Nadia Smith: "The people you meet at Mines, the support you have here, and the education you will receive is unmatched..."
Goldendale, WA
Mechanical Engineering Student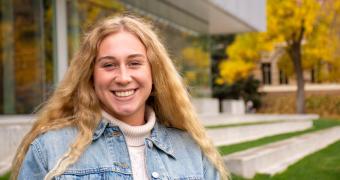 Why did you choose to come to Mines? What have you enjoyed most about being here?
I decided to come to Mines to get a very hands-on and well-respected engineering degree. I also wanted to swim for the Mines Varsity Swim Team and knew the second that I stepped onto campus during my recruiting trip that I would love Mines. I really love all of the people that I have met here at Mines and all of the opportunities that I have gotten to experience that have helped me on personal and professional levels.
Tell us about something you're working on right now that you find exciting, fulfilling or challenging?
This past summer, I was a manufacturing intern at Sierra Nevada Corporation working in their Space Systems Group on their Dream Chaser Space Plane. I am continuing to work for them part-time during the school year. It is absolutely amazing to be able to put on gloves and touch a vehicle that is going into space, let alone contribute to a team of incredibly smart individuals to help build this vehicle and get it into space.
Have you done an internship or co-op or been in a professional job while at Mines? Tell us who you worked for and what you were doing. What stands out?
I have worked for both Sierra Nevada Corporation and SEAKR Engineering, two really amazing aerospace companies. I was a manufacturing intern at both companies, working on the process from concept to build of parts on circuit boards at SEAKR and working on installations of parts onto the vehicle for SNC. For me, the most important thing about internships is finding what you like and don't like, learning how to interact with peers and people older than you in a professional way, and beginning to build a base for you to stand on as you begin your professional career.
What communities, groups or organizations—on- and off-campus—are important to you and why?
I am a captain on the Mines Varsity Swim Team. I have swum since I was six years old, am very competitive, and love the family that I have found in this swim team. I am a member of the Mines Society of Women Engineers. I think that women supporting women in STEM is an incredibly powerful thing, and we are really lucky to have the leadership that we have in our Mines SWE. I am also the alumni representative for the state of Washington's Technology Student Association. I was a very active member in high school, holding state leadership positions for both my junior and senior year, and I think that building a network of alumni across the country and continuing to support and give back to an organization that really helped mold you into the person you are today is very important. I am also a member of SNC's Young Professionals Group. I think that learning from your peers and people you look up to, especially in a workplace/professional environment is beyond valuable, and have had some incredible opportunities within the group.
What are your plans for the future? What's your dream job?
When I was little, I really wanted to be an astronaut. My parents always supported me, but given the fact that I threw up after just about every single amusement park ride, they suggested that maybe the astronaut simulations during training would make me sick. While I would still love to look at the Earth out of a small window while I rotate around the planet, my dream is to use my engineering degree to work on aerospace projects that increase our knowledge of outer space and make a difference for all of mankind. My current dream is to watch Dream Chaser launch (maybe even as a flight controller?) and know all of the parts that I helped work on, and know everyone who played crucial roles in the designing, building and testing of this amazing vehicle.
What would you tell someone interested in joining your academic program or Mines in general?
Mines is a tough school, engineering in general is tough, and so is the Mechanical Engineering program. But, here's the catch. Mines is also amazing. Engineering is an incredible field of study and Mechanical Engineering opens a million doors for you to walk through to work on amazing projects. No matter what you do in life, things will be challenging. But things that you care about are worth it, and the people you meet at Mines, the support you have here, and the education you will receive is unmatched and so worth it.
What's your favorite thing to do outside of class and coursework? How do you unwind, manage stress, find fulfillment, etc.?
I love reading trashy romance novels, playing cards, buying plants, and helping my roommates look after our avocados, hiking, paddleboarding, camping, and (very recently!) running!
Tell us something about you that most people would be surprised to learn?
The second ski run I ever went down was a double-black!