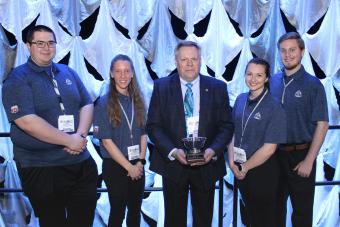 Colorado School of Mines continues to dominate the Materials Bowl, winning its third straight contest of student knowledge at the annual meeting of The Minerals, Metals and Materials Society, held earlier this year in San Diego.
On the team were metallurgical and materials engineering undergraduate students Cierra Dellarova, Chad Haunschild and alternate Taj Mitchell and graduate students John Copley and Melissa Thrun, who were also on last year's winning team.
Mines faced the University of Michigan and the Indian Institute of Technology Kanpur in the first round and the University of Pittsburgh in the semifinal. The team took the championship against the University of Illinois Urbana-Champaign by a score of 36 to 1, winning $250 for each member and $500 for the Material Advantage chapter at Mines.
Mines has now won the competition, held every year since 2007, eight times; only one other school has won it more than once.
Also at TMS 2020, Amy Clarke, associate professor of metallurgical and materials engineering, was one of six Brimacombe Medalists this year. The mid-career award recognizes individuals with sustained excellence and achievement in business, technology, education, public policy or science related to materials science and engineering and with a record of continuing service to the profession.
"My involvement in TMS began as a student, accelerated as a young professional, and has continued to grow with my career," said Clarke, who received a certificate and lapel pin. "I choose to give back to TMS because TMS has given so much to me. I wish to thank all of my peers, mentors, and students that inspire me to do my best to serve the materials science and engineering community – they are the fabric of TMS."
PhD candidate Zach Brunson and Rowlinson Associate Professor of Mechanical Engineering Aaron Stebner received the 2020 LMD Magnesium Technology Award – Best Paper for "In Situ Characterization of the Deformation Mechanisms Present in Biaxially Loaded Mg."
"This award offers a degree of affirmation to my research," said Brunson. "It indicates that I am doing work that is going to be impactful and that I am making meaningful contributions to the scientific community."
Members and alumni of Stebner's research group, The Beam Team, made at least 14 presentations at the event.
Kester Clarke, FIERF assistant professor of metallurgical and materials engineering, took part in the Student Career Forum at TMS 2020. Organized by the TMS Young Professional Committee, this session featured speakers from various stages of their careers and diverse materials science backgrounds to discuss how to navigate a successful career path in the fields of minerals, metals and materials.