Colorado School of Mines President Paul Johnson and U.S. Geological Survey Director Suzette Kimball have renewed a five-year memorandum of understanding that fosters collaboration in the areas of science and engineering related to the Earth and creates a new research center focused on economic geology.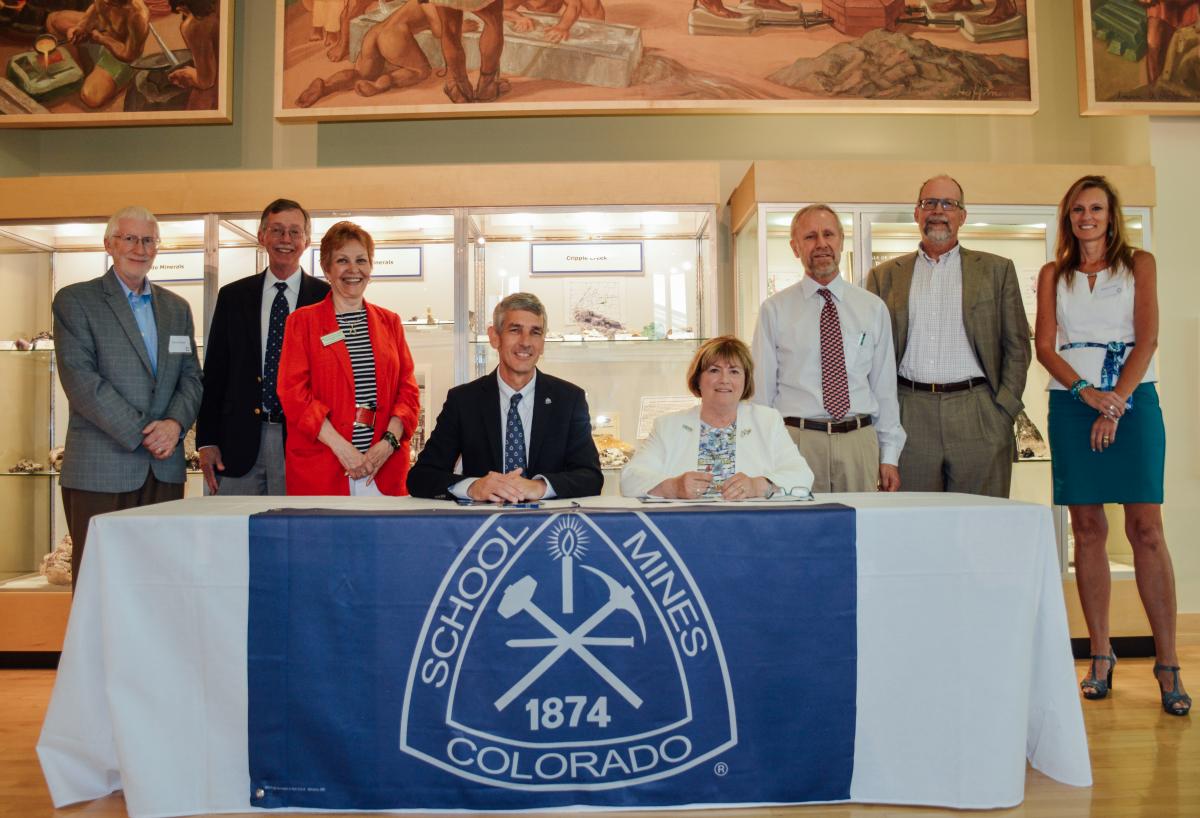 From left: College of Engineering and Computational Sciences Dean Kevin Moore, Senior Vice President for Research and Technology Tony Dean, College of Earth Resource Sciences and Engineering Dean Ramona Graves, President Paul Johnson, USGS Director Suzanne Kimball, USGS Southwest Regional Director Max Etheridge, USGS Head of the Natural Resources Program Larry Meinert and Mines Executive Vice President and Chief Operating Officer Kirsten Volpi.
"It's really exciting because USGS has quite a few scientists working in that area and Mines is one of the leading institutions in the world to do this," Economic Geology Associate Professor Thomas Monecke said.
The MOU, signed August 3, also identifies research on the genesis, exploration, modeling, mapping and economic analysis of critical minerals and materials as priorities of USGS and Mines.
"The really great thing about Mines is that being here on campus with the Earthquake Information Center is a really important link," Kimball said. "I've been excited about the students we've been able to work with. The last few years, I brought a group in the energy field to Reston (Virginia), where the Eastern Energy Resources Science Center is located. Being here on campus means being able to have a regular conversation with Mines."
Throughout the day, members of Mines and USGS toured USGS' nuclear reactor at the Federal Center, the Mines Geology Museum, the radiochemistry lab in the General Research Laboratory and the wastewater treatment facility at Mines Park. 
The first MOU was signed on May 12, 2011, between former Mines President Bill Scoggins and former USGS Director Marcia McNutt.
Contact:
Kathleen Morton, Digital Media and Communications Manager, Colorado School of Mines | 303-273-3088 | kmorton@mines.edu
Mark Ramirez, Communications Manager, College of Applied Science & Engineering | 303-384-2622 | ramirez@mines.edu