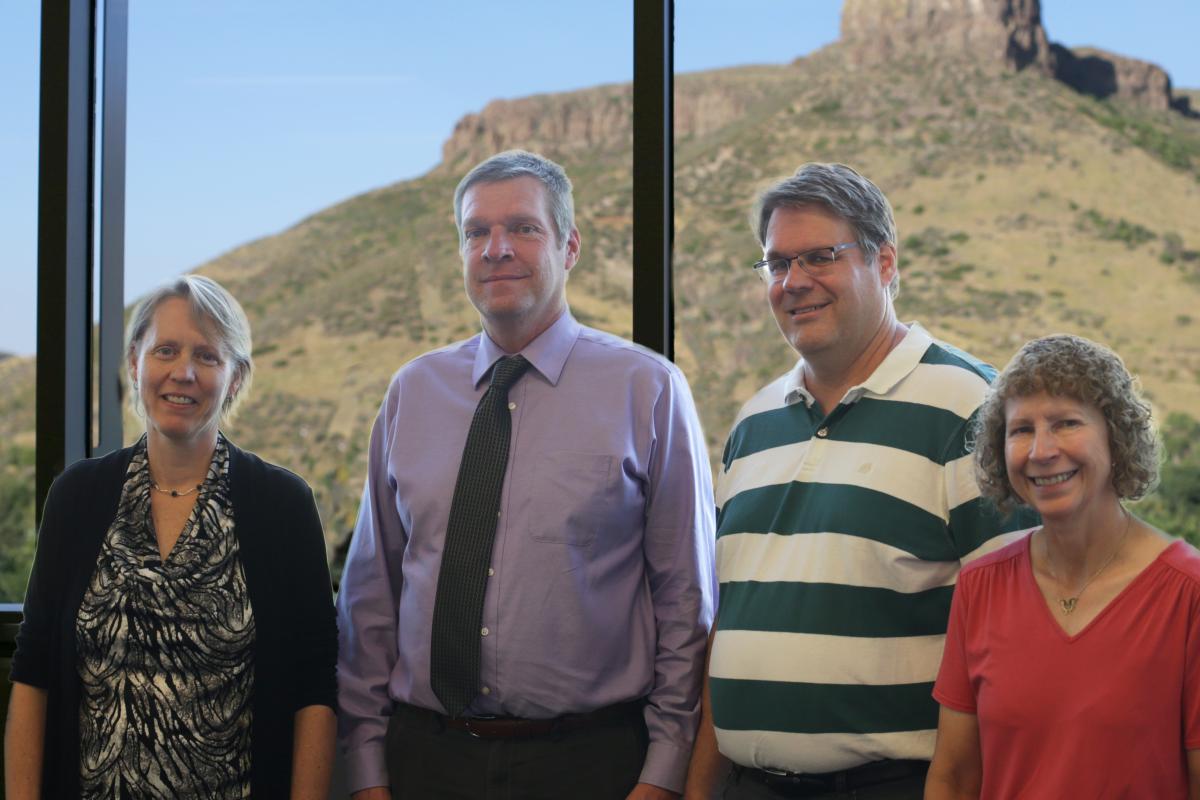 From left, CS Professor Tracy Camp, Kyle Gillette from Lakewood High School, Chuck Powell from Green Mountain High School, and Mines Teaching Professor Cyndi Rader meet to kickoff C-START.
GOLDEN, Colo., Sept. 19, 2015 – The National Science Foundation has awarded $998,507 over three years to Colorado School of Mines Computer Science Professor Tracy Camp, Teaching Professor Cyndi Rader, and Christy Moroye, associate professor from the University of Northern Colorado, for C-START: Colorado – STrategic Approach to Rally Teachers.
C-START aims to change the current landscape of high school computer science in Colorado. The objectives of the grant are to improve the skills of existing computer science teachers in Colorado, share best practices in computer science pedagogy, and positively change the diversity of students in existing and new computer science courses.
"When compared to national numbers," explained Camp, "it's clear that Colorado is in desperate need of more teachers who have the ability to offer rigorous, engaging computer science courses."
Colorado is tied with 10 other states for last place when measuring the extent that the state has adopted the nationally recognized computer science education standards promoted by the Association for Computing Machinery and Computer Science Teachers Association. In addition, a large disparity exists in the number of underrepresented minorities that take the AP computer science exam.
C-START will create high-quality professional development opportunities and empower more than 50 high school teachers in Colorado to teach a progression of computer science courses, from introductory through AP. While Mines does not certify teachers, by working closely with the University of Northern Colorado, C-START will implement two academic certificates for teaching computer science and re-energize the only Computer Science Teachers Association Chapter in Colorado.
C-START will also create a service-learning course that undergraduate students at Mines can take to help the next generation of students gain the strong computational knowledge that all innovation now requires.
Contact:
Deirdre Keating, Information Specialist, College of Engineering & Computational Sciences | 303-384-2358 | dkeating@mines.edu
Karen Gilbert, Director of Public Relations, Colorado School of Mines | 303-273-3541 | kgilbert@mines.edu