Mines team wins second place at international mine rescue competition
"Long hours of training both on campus and in the Edgar Experimental Mine paid off for our Mines team," mechanical engineering freshman CJ Kaufman said.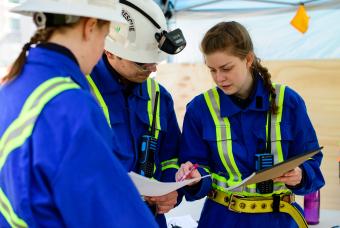 A team of students from Colorado School of Mines took second place in the inaugural Canadian International Student Mine Rescue Competition, hosted by the University of British Columbia on Feb. 20-21.
Collegiate mine rescue teams from around the world met in Vancouver to test their skills in five disciplines: first aid, firefighting, rescue equipment technician, underground mine exploration and a written exam.
The Mines Mine Rescue Team placed second in the first aid and underground divisions and secured second place in the international competition's cumulative final rankings.
"Long hours of training both on campus and in the Edgar Experimental Mine paid off for our Mines team – we were able to demonstrate past training and gain new experience in each area," said CJ Kaufman, a freshman in mechanical engineering. "The team learned from industry professionals how to safely and efficiently use new equipment in dynamic scenarios and looks forward to hosting the next Intercollegiate Mine Rescue Competition in late February 2021 at our own Edgar Mine in Idaho Springs."
Rounding out the Mines team were mechanical engineering senior Jared Mullins, mining engineering junior Jaume Martinez Calvo, mechanical engineering senior AV Schilt, mining engineering sophomore Zach Ogden, mining engineering junior Martina Gilbert and chemical engineering junior Sarah Vanhook.
In the competition, teams had to flex their knowledge of safety procedures, emergency medical response, instrumentation and technology, mine ventilation, ground control, underground mining equipment and fire hazards in a mine.
For the first aid segment, teams responded to a simulated lab explosion, preparing several "patients" for transportation to a hospital. While preparing for emergency medical services, the team's lead medic, Sarah Vanhook, was responsible for synchronizing efforts to efficiently manage the "patients" and briefing the emergency communications coordinator on the situation.
Led by Canadian professionals, the firefighting contest involved live vehicular and residential fires. The Mines team set up a system of hoses to mitigate and douse the flames, learning how to safely control hoses and nozzles. Once the scene was safe, the team successfully extracted a residential "victim" and maintained control of the area.
The technician contest was conducted on a Drӓger BG-4 mine rescue breathing apparatus, utilizing a Drӓger Test-it 6100 device. A representative from Drӓger trained all student technicians on the use of the device.
A five-person team competed in the underground mine exploration segment. The challenge required response to multiple injured "patients" as well as unified, procedural movement in heavy smoke conditions with limited visibility. Each underground team member wore the Drӓger BG-4 oxygen rebreather units and fire protective suits throughout the exploration segment.